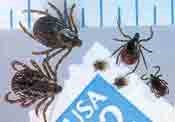 Pests are those species that interfere with the purposes of the park such as protecting cultural or natural resources, or negatively impact visitor safety.
The National Park Service uses Integrated Pest Management (IPM) to control pests. IPM is based on proper identification of a pest and a thorough understanding of that pest's biology. It uses an integrated approach – that is, pests are managed only when damage reaches a pre-determined threshold, using a variety of treatments such as mechanical, physical, cultural or biological.
Chemical treatments are used only as a last resort, if they are shown to be the most effective and minimally damaging method of treatment.
By far, the most serious pest problem is the Black-legged Tick formerly known as the Deer Tick.
Currently graduate students are collecting data on the abundance and distribution of black-legged ticks in the park along with the frequency of infection of these ticks with the Lyme disease spirochete. Information concerning the biology and distribution of ticks along with methods of prevention are made available to park visitors.