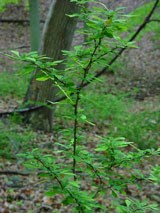 Non-native species are also referred to as introduced, exotic or alien species. The introduction of non-native plants into America is virtually as old as the early European voyages of exploration.
Farmers, estate owners, and early-era National Park Service programs (such as CCC work programs) all played a part in introducing non-native species into the area presently within park boundaries.
There are 106 different non-native plant and tree species thus far documented within the park. Many of these species have relatively small populations, but a few including Tree of Heaven, Oriental Bittersweet, Norway Maple, Japanese Wiregrass, Siebold's Viburnum, Japanese Barberry and Garlic Mustard have increased in numbers.
Increased deer browsing over the past two decades has played a major role in the spread of invasive non-native plants. Species of plants less palatable to deer have spread throughout the park's forests and in some cases replace native plants.
Japanese Barberry, a thorny understory shrub introduced from Asia is found in over 40% of the park. Japanese Wiregrass is found in 50% of the park. These two non-native plant species do not appear to be expanding their range in the park although the density levels within their existing range may be increasing.
Park staff are focusing their efforts on the removal of Siebold's Viburnum, a mid-size non-native tree first observed in the mid 1990s and spreading rapidly.