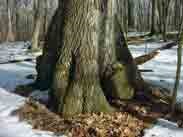 Among the reasons that General Washington chose Morristown as an encampment site were its plentiful natural resources. The Continental Army utilized the vast timber resources for the construction of log huts as well as other uses.
Since the time of the Revolutionary War the tulip tree forest has been able to re-grow and become a secondary old growth tulip tree forest. There are up to 100 acres of old growth tulip tree communities now 150 to 220 years old, 24 to 42 inches in diameter and at least 120 feet tall.
They show old growth features such as balding bark, buttressed roots, and lowest boughs at great heights. According to historical research the site was most likely forested and selectively cut until the mid-1800s, after that there has been little disturbance to this particular resource within the park boundary.

The park's forests have experienced many disturbances over the past three hundred years. Extensive harvesting of forested lands for soldier huts, clearing for fields, and frequent logging practices changed the park's forests in the 19th and early 20th centuries.
After the park was established in 1933, the Civilian Conservation Corps carried out a wide range of forestry practices including removing dead trees and planting new trees. In addition to man-made disturbances, natural disturbances also have affected the park's forests.
By the 1920's most of the chestnut trees were killed by the introduced chestnut blight. Elm trees have been decimated by Dutch elm disease. Gypsy moths killed many old or stressed oak trees in the 1960s and 1970s.
More recently, growing deer populations have increased browsing damage to many native plant species. As a result a few plant species, both native and non-native which are less palatable to deer, have spread in the forests. Niches emptied by deer browsing and past disturbances create open habitats where only the plant species which deer don't consume are able to succeed.