Research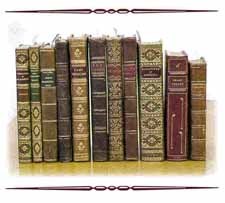 Scheduling a Visit
Access to research material is by appointment only. Walk-in requests for collections access will not be honored.
Hours
1:00 pm - 4:00 pm Tuesday through Thursday, subject to staff availability.
For information or to make an appointment, please contact the library curator, Dr. Jude M. Pfister at 973-539-2016 x 204 or by email.
Call or email your request at least one week prior to your intended visit, and wait for a confirmation phone call or email as we have limited capacity. Note: We do not have a reference librarian on staff so it is possible we will not be able to accommodate all requested research dates.
Please let us know the exact number of researchers in your party.
Please give us an idea of your interests or the materials you would like to view.
All non-staff researchers must provide a picture ID. Researchers 18 years of age and under will need their teacher to acknowledge their research project with library staff. Visitors under the age of 14 will not be granted access to the research room.
We are located at:
30 Washington Place
Morristown, New Jersey 07960
*Please use the main entrance, located on the south side of the building. A member of our Interpretation Staff will need to call down and let us know you have arrived.
Researcher Information Form
Library Rules and Regulations
All researchers, whether staff or non-staff, may only use the library during the posted operating hours by making an appointment with the library division.
At no time will anyone beyond the library staff be allowed in the library storage area unescorted.
Large winter coats, bags, briefcases, and other items are prohibited from the library. Large materials should be stored in the lockers provided. All items are subject to search.
Only pencils are allowed as a writing device. Tablets and computers are permitted.
Photographic equipment (camera only) is allowed with prior arrangement. Cell phones with cameras may not be used for photography.
Photocopying is permitted by staff (on materials which can be safely photocopied) with the full acknowledgement of copyright rules being the burden of the researcher.
No food, drink, or tobacco products are allowed within the library. Water may be placed in the lockers outside of the library.
Library staff will determine the amount of material given to a researcher at a given time. Access will be limited for fragile or damaged items.
Researchers will be required to fill out request slips for ALL materials (including microfilm), which the staff will retrieve.
All non-staff researchers must provide a picture ID. Researchers 18 and under will need their teacher to acknowledge the research project with the library staff.
While material is in the researcher's care, it is their responsibility to ensure it is properly handled in accordance with these guidelines.
All researchers should avoid applying creams or lotions to their hands immediately before handling materials as the oils can transfer and cause considerable damage.
Researchers may not rearrange the order in which materials are delivered to them.
No marks are to be added or erased from any item.
Tracing and rubbings are not permitted.
Researchers should not lay paper or cards on an object when writing notes. This practice leaves an impression that will shorten the life of the material. Material should not be leaned on with elbows, marked, or folded.
Do not lay books open face down, or employ harmful bookmarks such as pencils, rulers, other books, etc. Broken spines and torn pages are the result of such treatment.
To mark a place, use paper flags; ask the library staff for assistance. NEVER use paperclips or post-it notes on materials.
Cell phones and pagers must be turned off or silenced in the library.
Permission to cite materials must be obtained in writing from Morristown NHP. All acknowledgements must read: Morristown National Historical Park.
Last updated: June 14, 2023