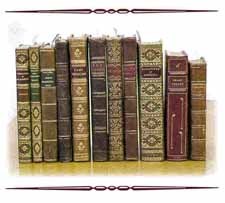 Scheduling a Visit
Access to research material is by appointment only. Walk-in requests for collections access will not be honored.
Hours
1:00 pm - 4:00 pm Tuesday through Thursday, subject to staff availability.
For information or to make an appointment, please contact the library curator, Dr. Jude M. Pfister at 973-539-2016 x 204 or by email.
OR
Archivist Sarah Minegar at 973-593-2016 x 215 or by email.
Call or email your request at least one week prior to your intended visit, and wait for a confirmation phone call or email as we have limited capacity. Note: We do not have a reference librarian on staff so it is possible we will not be able to accommodate all requested research dates.
Please let us know the exact number of researchers in your party.
Please give us an idea of your interests or the materials you would like to view.
All non-staff researchers must provide a picture ID. Researchers 18 years of age and under will need their teacher to acknowledge their research project with library staff. Visitors under the age of 14 will not be granted access to the research room.
We are located at:
30 Washington Place
Morristown, New Jersey 07960
*Please use the main entrance, located on the south side of the building. A member of our Interpretation Staff will need to call down and let us know you have arrived.
Researcher Information Form