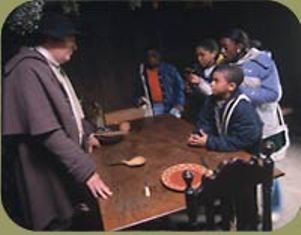 Jockey Hollow
The Jockey Hollow unit of Morristown NHP can be visited as part of a self-guided class trip. However a visit to the Visitor Center and Wick House may not be possible if they are occupied by classes that have scheduled a formal educational program.
The Visitor Center offers a 15-minute video, with seating in the viewing area for approximately 20-25 people. The site also has a mural depicting the 1779-1780 Jockey Hollow Encampment, an exhibit featuring a full scale model of a soldier hut, a sales area and restroom facilities.
A brief walk up the path behind the Visitor Center brings visitors to the historic Wick House and garden. A paved, 3-mile one-way road allows visitors to tour the park by automobile.
Jockey Hollow also offers over 20 miles of hiking trails. Historic sites at the park are best viewed by taking the yellow trail, a 2 1/4 miles round trip that includes the replica soldiers huts on the site where the Pennsylvania brigades camped, and the Grand Parade area. Natural sites are best viewed using the blue trail, a three mile loop that travels past Cat Swamp Pond, as well as a scenic overlook on Mt. Kemble.
To find out more information, or to notify the staff of an intention to bring a group, call 973-543-4030. The Visitor Center is open Wednesday-Sunday from 9:30 am to 5:00 pm.
**More self-guided field trip materials coming soon!**