Bicycling Safety & Regulations
Laws and regulations relevant to bicycling in Mount Rainier National Park includes:
Please follow these safety guidelines and regulations when bicycling in Mount Rainier National Park:
Know your physical limits. Most routes include steep and strenuous elevation gains. Carry plenty of water and food to keep you fueled.
Bicyclists are advised to maintain safe speeds on downhill sections.
Be prepared for changing conditions and weather. Temperatures may be hot at low elevations and much colder as you climb to higher elevations.
Follow the same rules of the road as motorists. Bicyclists have the same rights and responsibilities as drivers.
While in the park, bicyclists are required to ride single file. Mount Rainier's roads are narrow, winding, and do not have shoulders. Park roads can have heavy summer traffic, including RVs.

Bicyclists may ride two abreast only on Westside Road and Carbon River Trail (former road), where vehicles are not allowed. However, please be aware of hikers also using those roads and yield to hikers.

Use hand signals to let motorists know what you will be doing next.
Use lights and reflectors in low-light conditions, especially when riding through the forests at lower elevations.

Use a white light or reflector that is visible from a distance of at least 500 feet to the front.
Use a red light or reflector that is visible from at least 200 feet to the rear.
In addition to low light conditions, bicyclists will frequently be riding in mixed sun and shade. Using lights and reflectors in these conditions will help bicyclists be more visible.

Wear brightly colored, high visibility clothing and a properly fitting helmet.

Carry identification and emergency medical information.

Treat pedestrians with the same courtesy you would expect from motorists.

There is no cell coverage in most areas of the park. In case of emergency, call 911 if possible or report to a ranger.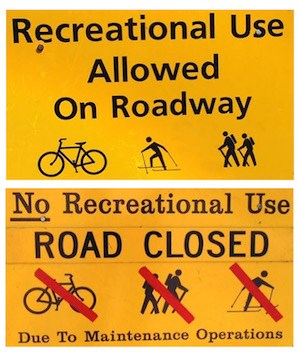 Bicycling on Closed Roads
Closed roads may be open to non-motorized vehicles like bicycles. Always check signs on closed road gates before proceeding.

During snow plowing operations or when otherwise posted, park roads are closed to all use, including hiking, skiing, snowmobiles, and bicycling.
Last updated: May 24, 2021