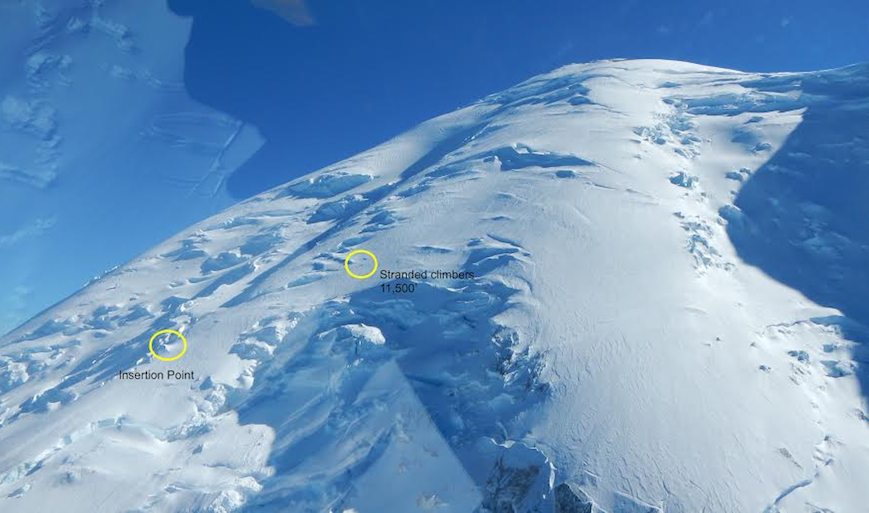 News Release Date:
June 29, 2016
Contact: Glenn Kessler, Park Aviation Manager, 360-569-6222
Mount Rainier National Park is experiencing a busy start to the summer season with six Search and Rescues (SARs) and three helicopter rescues
in three weeks
.
In the 24-hour period during which the most recent helicopter rescue took place, three other ground-based rescues of injured parties were also accomplished.

In the most recent event, two climbers were rescued by National Park Service helicopter on Tuesday, June 28, after one fell ill. The ill 23-year-old climber was a member of a team that departed Camp Schurman via the Emmons Glacier route before midnight on Monday. After an attempt to summit, the team descended to 11,500 feet where the climber reported breathing trouble and was unable to descend further. Leaving the ill climber with a team member to care for him, the rest of the party descended to Camp Schurman, a high camp at an elevation of 9,450 feet. From there they alerted National Park Service rangers via a park service emergency radio.
Climbing rangers were inserted on a ledge a few hundred vertical feet below the stranded climbers and ascended to the ill climber. Due to location, technical glaciated terrain and condition of the patient, rangers elected to perform a helicopter short-haul to move the patient and his companion to a landing zone inside the park where the helicopter could land and they could be loaded inside. Short-haul is a rescue technique in which a rescuer and patient are suspended on a line below the helicopter, typically employed when rugged terrain makes it impossible for a helicopter to land. The patient was then transported off the mountain by helicopter and transferred to an ambulance for ground transport to the hospital.
This was the third upper mountain helicopter rescue evacuation at Mount Rainier in the last three weeks. On June 10, two climbers were evacuated from the summit after they became disoriented, spent several unplanned nights on the mountain and signaled for assistance. On June 19, another pair of climbers was rescued from unstable storm-snow-laden slopes at 13,000 feet, having climbed into a storm two days prior. 
This is the second year Mount Rainier and North Cascades National Parks have shared a dedicated short-haul rescue helicopter for the climbing season. The Mount Rainier-based National Park Service Search and Rescue (SAR) helicopter is in addition to Chinook helicopters operated by the B-Company 1-214th United States Army Reserve with members of the 22nd Special Tactical Squadron of the US Air Force, which regularly performs helicopter rescues on Mount Rainier year-round and served as contingency resources during the recent rescues. The NPS reserves helicopter search and rescue for special cases demanding this high-powered resource. Ground-based search and rescue events outnumber helicopter-based events annually.
Mount Rainier Superintendent Randy King remarked that, "It takes a large team of dedicated employees, partners, and volunteers to support the more than 50 Search and Rescues the park has each year. Having the right tools like a dedicated and high altitude-capable park SAR helicopter, and the assistance of the 214th and our many volunteer rescue organizations, improves patient outcomes and rescuer safety."
About the National Park Service. More than 20,000 National Park Service employees care for America's 408 national parks and work with communities across the nation to help preserve local history and create close-to-home recreational opportunities. Learn more at www.nps.gov.