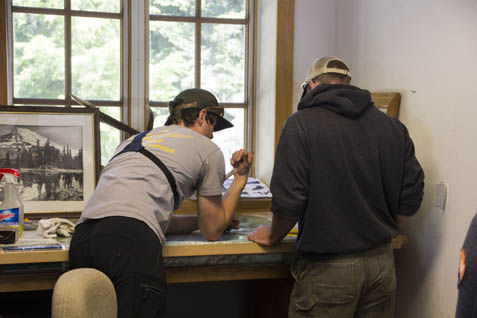 News Release Date:
June 21, 2014
Contact: Patti Wold, 360-569-6563
The third day of searching for missing day hiker, Karen Sykes of Seattle, Washington, is underway on Mount Rainier's east side. Six ground crews, including two Kittatas County dog teams, are searching an expanded area further out from the Owyhigh Lakes Trail. Air operations are also supporting today's search efforts.
The search area is in steep, rugged terrain with snow cover starting at the 4500-6500 foot level. Current safety concerns for Ms. Sykes and ground crews include snow bridges, tree wells, and steep, wet, and slippery terrain. A searcher sustained an injury caused by punching through a snow bridge on Thursday, June 19. He was air lifted out of the search area.
On Wednesday, June 18th, Ms. Sykes was hiking the Owyhigh Lakes Trail with a partner when they parted at 3:00 pm with the intention to meet back at that location. She went ahead when the party of two encountered snow at approximately 4500-5000 feet in elevation. Her partner stayed at the location last seen, as arranged, to wait for her return. When she failed to return to the point last seen and eventually to the trailhead her partner called in an overdue hiker report at 10:30 pm.
Ms. Sykes is an outdoor journalist, marathon runner, and considered a knowledgeable, experienced hiker. She had adequate survival gear to overnight in the event of an emergency.
The German Shepherd Search and Rescue of Washington State, Kittatas County dog teams, King County Explorers, and Everett, Olympic, and Seattle Mountain Rescue personnel have been or are actively involved in the search efforts. An MD-530 helicopter from Northwest Helicopters in Olympia, Washington is providing air support.
A temporary flight restriction is in place covering a six mile radius from Barrier Peak to 12,000 feet in elevation.
Operations and the information team are working out of the White River Ranger Station in the northeast segment of the park.