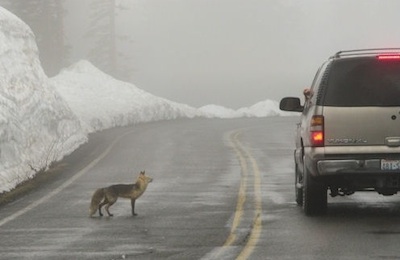 News Release Date:
July 27, 2011
Contact: Sarah Yates, Wildlife Department, 360-569-6774
Mount Rainier National Park will host its third annual Keep Wildlife Day on August 6th, 2011, from 9:00 a.m. to 2:00 p.m. in an effort to educate visitors on wildlife and the impacts we have on them. The day will focus on wildlife protection and education to keep Mount Rainier's wildlife wild. 
The day will be celebrated with a number of short educational programs in the Paradise area. Interpretive rangers and biologists will present talks on native wildlife throughout the day. Activities will be provided for children to explore the interesting world of wildlife through artistic expression. 
Schedule of Events
The Cascade Red Fox: Washington's Unique and Little-known Carnivore - 9:00 a.m. - Paradise Inn lobby
Mount Rainier contains one of the few known populations of the Washington Cascade red fox. Learn more about this rare species as U.S. Forest Service research biologist Keith Aubry presents the findings of his studies, begun at Mount Rainier 30 years ago. 
The Karelian Bear Dog Program - Hourly - Outside Jackson Visitor Center
Washington Department of Fish and Wildlife officer Bruce Richards will illustrate black bear conflict management with Mishka, a trained Karelian Bear Dog. The audience will participate in a control technique designed to keep bears in the wild and avoiding humans. Hourly demonstrations, program information, and educational wildlife specimens will be displayed throughout the day outside the Jackson Visitor Center.
The Birds of Paradise - 9:30-11:30 a.m. & 12:00-2:00 p.m - Outside Jackson Visitor Center
Meet at the flagpole outside the Jackson Visitor Center for a guided bird tour with park field biologist Keith Bagnall. Learn about bird identification, ecology, and see how human behavior is impacting avian communities in a fragile subalpine environment. Patience and persistence may reward groups with encounters of mountain specialties such as White-tailed Ptarmigan, Gray-crowned Rosy Finch, or Pine Grosbeak. Tours will have approximately two miles of hiking with elevation gains up to 900 feet. Some sections of trail may still have persistent snow-pack. Sturdy footware, sunglasses, binoculars, and a water bottle are recommended.
Wild Lives: Tales of the Wildlife at Mount Rainier - 1:00 p.m. - Paradise Inn lobby
Join Interpretive Teacher-Ranger Kirsten Anderson in the lobby of the Paradise Inn for an educational program about wildlife in the park. Hear stories of animals that tell how you can help keep them wild. 
At the Paradise Inn

Dale Thompson, a former chief naturalist and seven year employee of Mount Rainier National Park from 1986, will be painting by the fireplace near the main entrance. He will share with you his stories and experiences of responsible wildlife viewing and wildlife painting. 
Mount Rainier's wildlife biologist Ellen Myers will be presenting an instructional exhibit showcasing wildlife-proof food storage methods. 
Craft activities with a wildlife theme will be hosted by the Mount Rainier National Park Education Department in a children's corner.
-
More information about Mount Rainier's Keep Wildlife Wild program is available on the website. For general park information call 360-569-2211.

-NPS-