Deep Snow Conditions Will Delay Opening of Sunrise Area and the White River Campground; Entrance Fees Waived on June 21
Date:
June 17, 2011
Contact:
Donna Rahier, 360-569-6501
Deep and persistent snow levels at higher elevations on Mount Rainier will delay the opening of the road to Sunrise until at least July 8. Park road crews, using bulldozers and a rotary snow blower, are working daily to remove snow from the road and expect to reach the parking area at Sunrise early next week. Once access is available, additional park and Washington Conservation Corps crews will be brought into the area to shovel out buildings and activate the power and water systems.    
Since July 1, 2010, a total of 907 inches of snow have fallen at Paradise. The record for the park is 1,122 of snowfall during the 1971-72 season.  Cool and wet temperatures have persisted into June, delaying snow melt in the upper elevations and slowing snow removal operations that began in March. Washington State Department of Transportation (WSDOT) road crews have faced similar deep snow conditions on Highway 410, delaying the opening of Chinook Pass on the east side of the park. WSDOT's projected opening for Chinook Pass is June 23 at 10:00 AM.
Persistent snow conditions will also delay the opening of the White River Campground until July 1. The road to the campground is open and accessible.  Mowich Road opening operations will be delayed until snow removal at Paradise and Sunrise are completed. All other park roads and areas are open. Travelers are advised to check the park's website prior to a visit to get updated information on road and trail conditions, services and activities. Mount Rainier National Park's website is at: www.nps.gov/mora. For photos of current snow conditions at Sunrise, scroll down to the bottom of the page.

Please check the WSDOT website, www.wsdot.wa.gov,for current updates on all highway and pass conditions in Washington State.
June 21 is a FEE FREE DAY at Mount Rainier!
June 21 marks the first day of summer and the next FEE FREE DAY at Mount Rainier National Park and all other national parks charging entrance fees across the nation. This is one of 17 fee free days that have been designated this year.  Other remaining fee free periods are September 24 (National Public Lands Day), and November 11-13 (Veteran's Day Weekend).

Fee free days serve to encourage Americans to visit and appreciate their national parks.

-NPS-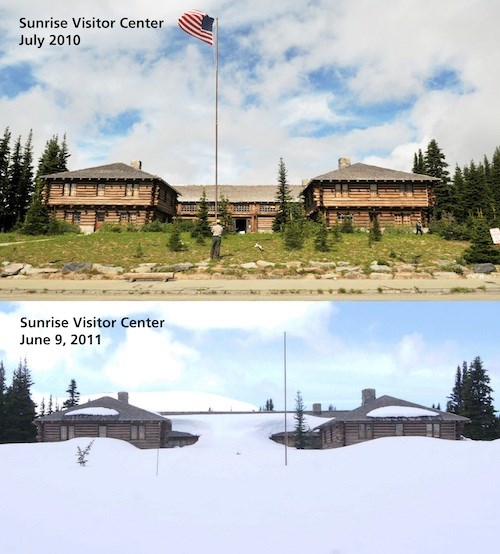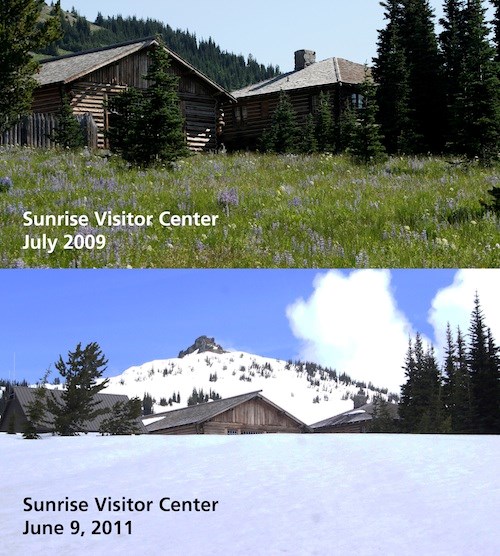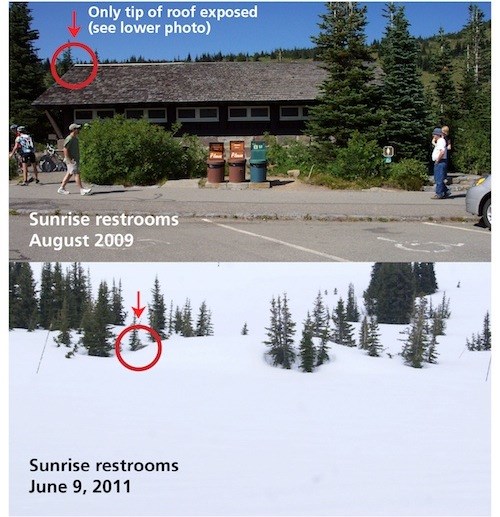 Last updated: February 28, 2015