Amphibians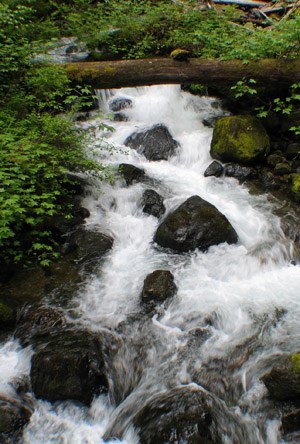 Amphibians are good indicators of an ecosystem's health as they live in both terrestrial and aquatic areas and are sensitive to changes in environmental conditions. They also constitute a major portion of animal biomass in many habitats. In some forested areas, amphibians exceed the combined weight of all other vertebrates. However, amphibians have been suffering from serious population declines worldwide, which has a profound affect on forest ecosystems.
A park-wide survey of aquatic breeding amphibians was conducted during 1996-1999. Terrestrial amphibian surveys were conducted from 1999 – 2002, focusing on the Van Dyke's (P. vandykei) and larch mountain (P. larselii) salamanders, both federally listed Species of Concern.
Given the worldwide decline in amphibians, and identified threats in Mount Rainier National Park, we are developing long-term monitoring programs to document the distribution and abundance of certain amphibian species that serve as good bio-indicators.

Citizen Science Amphibian Monitoring Project
Monitoring Amphibians at Mount Rainier National Park - 2019 Summary
Help us track Western Toads!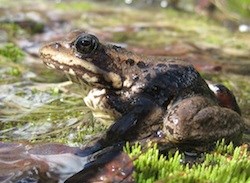 Cascade Frog
Rana cascadae
Female Cascade frogs can reach lengths of 3 inches (7.5 cm), while males are smaller, with a max length of 2.3 in (6 cm). They have brown to yellow-olive coloring and black spots. Habitat in park: old growth forest, meadows, wetlands & ponds.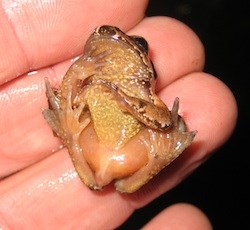 Coastal Tailed Frog
Ascaphus truei
Brown, reddish-brown to gray coloring with yellow and gray mottling. Males are easily identifiable by their "tails", which are actually cloacas used to fertilize female frogs internally. They are the most primitive family of frogs. Habitat in park: waterfall splash zones, stream banks.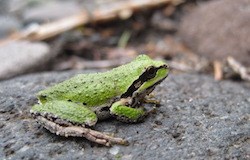 Pacific Chorus Frog
Pseudacris regilla
Also known as pacific tree frog. A small frog, only reaching about 2 inches (5 cm) long, with a dark colored stripe running from the nose and across the eye on each side. Chorus frogs can be green, grey, tan, brown, or black and can change color. Habitat: wet areas such as marshes, ponds, and streams.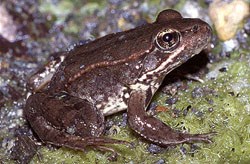 Red-legged Frog
Rana aurora
Gray to reddish-brown, with reddish coloring on rear legs and lower belly. Toes are only slightly webbed. Habitat: ponds, but frequently can be found away from water.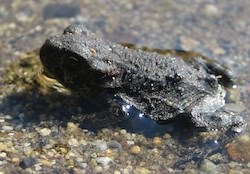 Western Toad
Bufo boreas boreas
2-5 in (5-13 cm) long, with large bumps on skin. Unlike frogs, toads have a toothless upper jaw and prefer sluggish walking to hopping. Two bulbous glands behind the eyes exude a thick, white poison to deter predators. Habitat: wetlands, ponds.
Do you think you've seen a toad in the park? Help us track western toads!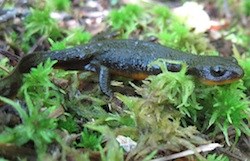 Rough-Skinned Newt
Tarisha granulosa
6-7 in (15-18 cm) long, greenish-black coloring and rough, warty-looking skin. Newts are a family of salamanders with toxic skin secretions. When threatened, they adopt a rigid posture, with upturned chin and curled tail. Habitat: ponds, marshes.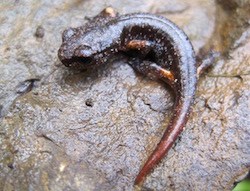 Ensatina
Ensatina eschscholtzii
Ensatinas are a type of salamander, widely distributed on the west coast. They range in size from 1.5-5.7 inches (45-145 mm) long, with wide color variability between subspecies. Ensatina found in Washington tend to be brown-black with pale bellies. Habitat: coniferous forests.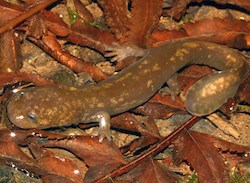 Cope's Giant Salamander
Dicamptodon copei
A large, aquatic salamander that rarely metamorphoses, but instead retains gills throughout its life. Primarily brown, with mottled yellow patches and pale bellies. Habitat: cold, fast-moving streams in coniferous forests.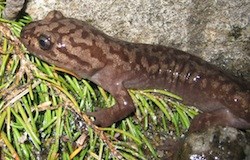 Coastal Giant Salamander
Dicamptodon tenebrosus
7-12 in (18-30 cm) long, brown-purplish coloring with black splotches.This salamander is large enough to eat mice, garter snakes and other salamanders. It is also the only salamander with a voice, able to emit a "yelp"-like call. Habitat: rivers.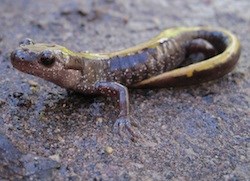 Long-toed Salamander
Ambystoma macrodactylum
4-6 in (10-15 cm) long, with a wide, blunt head and a yellow-greenish stripe along back. A wide ranging salamander, with habitat in subalpine meadows as well as forest, though always near water.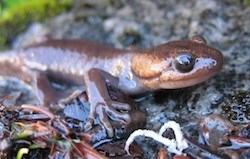 Northwestern Salamander
Ambystoma gracile
Olive-brown coloration on backs, with lighter coloration on belly. Habitat: ponds and lakes.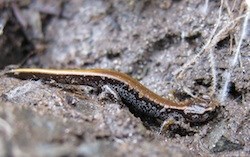 Van Dyke's Salamander
Plethodon vandykei
Dark coloring with a vivid yellow, green, or reddish stripe. This salamander has relatively short legs and tail compared to other salamanders. It breeds terrestrially but is found in stream sides and wet areas.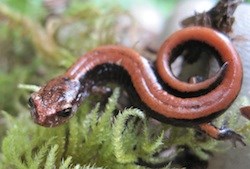 Western Red-backed Salamander
Plethodon vehiculum
3-5 inches (7.6-12.5 cm) long, brown or black coloring with full-length red, orange or yellow stripe on back. Red-backed salamanders do not have lungs or gills but absorb oxygen directly through their skin. Habitat: terrestrial, forest and rocky talus areas.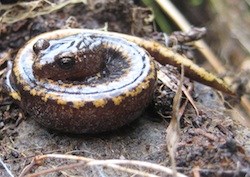 Larch Mountain Salamander
Plethodon larselii
Similiar in size as the red-backed salamander, with gold-flecked dark coloring and a reddish stripe on back. When threatened, the larch mountain salamander coils and uncoils itself rapidly causing it to jump about. Habitat: terrestrial, rocky talus areas.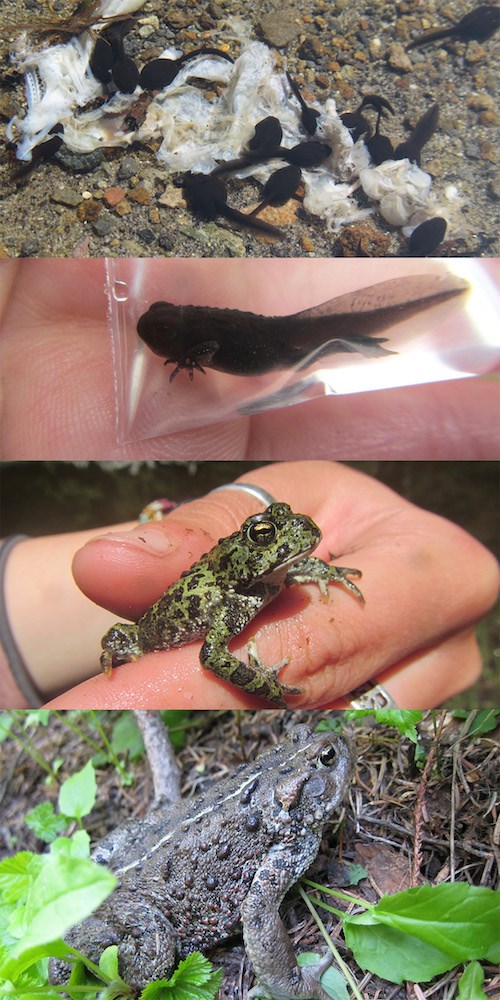 Help us track western toads!
Did you know that the western toad has been observed to travel up to 12 km over rugged terrain from its place of birth, or that female western toads can deposit around 15,000 eggs at one time? Whoa!!
The western toad (Anaxyrus boreas) is the only toad species known to exist in Mount Rainier National Park, and it is also relatively rare and mysterious compared to other amphibians. However, because it is an important indicator of ecosystem health, and an awesome species that we want to learn about and protect, we are trying to track it down and determine yet undiscovered breeding sites!

You may come across a toad during the course of your travels in the park (see photos for examples of western toads in various life stages). If you think you spot a toad, please email us with the following information:
Photo of potential toad

UTM coordinates (if possible)

Approximate location of the toad (i.e. halfway up the trail to Crystal Lake; a pond in Glacier Basin, etc.)

And please remember to never touch amphibians if you have bug spray or sunscreen on your hands!
We really appreciate your help.
Additional Resources:
Chelgren, N.D., B. Samora, M.J. Adams, & B. McCreary. "Using spatiotemporal models and distance sampling to map the space use and abundance of newly metamorphosed western toads (Anaxyrus boreas)" 2011. Herpetolgical Conservation and Biology: 6 (2): 175-190.
Eagles-Smith, C. A., et al. "A National-Scale Assessment of Mercury Bioaccumulation in United States National Parks Using Dragonfly Larvae As Biosentinels through a Citizen-Science Framework" 2020. Environmental Science & Technology.
Hoffman, R. L., G. L. Larson, & B. Samora. "Response of Ambystoma gracile to the Removal of Introduced Nonnative Fish from a Mountain Lake" December 2004. Journal of Herpetology: 38 (4): 578-585.
Larson, G.L., R. Hoffman, R. Lofgren, B. Samora, & S. Anderson. "Increased Amphibian Presence In a Mountain Lake After Fish Removal, Mount Rainier National Park, Washington" 2017. Northwest Naturalist: 98 (3): 228-236
McIntire, C.D., B. Samora, R. Hoffman, Jr., & G.L. Larson. "Inventory of aquatic breeding amphibians, Mount Rainier National Park, 1994-1999" 2003. USGS, Forest and Rangeland Ecosystem Science Center: 94.
Olson, D.H., & C.M. Crisafulli. "Conservation Assessment for the Van Dyke's Salamander" August 21, 2014. USDA Forest Service Region 6 & USDI Burea of Land Management.
Samora, B., M. Layes, & R. Lofgren. "Mount Rainier National Park amphibian inventory 2001-2003: Non-sensitive version". 2013. Natural Resource Technical Report NPS/NCCN/NRTR - 2013/696.N. National Park Service, Fort Collins, Colorado.


Last updated: October 27, 2021