Black Canyon Road & Cedar Canyon Road
Mostly unpaved, the 20-mile Cedar Canyon Road connects Kelso Cima Road in the west with
Ivanpah Road
in the east, paralleling (and sometimes joining) the historic
Mojave Road
. Black Canyon Road (unpaved north of Hole-in-the-Wall) connects Cedar Canyon Road with Essex Road, 20 miles to the south.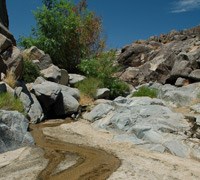 Rock Spring Loop Trail
Wayside exhibits, pit toilet, picnic area.
This 1-mile loop trail starts at Bert Smith's Rock House and passes by Rock Spring. Wayside exhibits describe the history of Mojave Indian use and the United States Army. Located on Cedar Canyon Road, 5 miles east of the intersection with Black Canyon Road (or 10 miles west of the intersection with Lanfair Road) a signed turn-off leads south to the trailhead and parking area.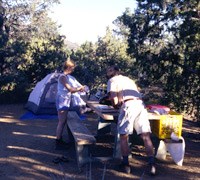 Mid Hills
Campground, trailhead, vault toilets, water. Not recommended for RVs.
About 2 miles west of Black Canyon Road at the north end of Wild Horse Canyon Road, Mid Hills supports pinyon-juniper woodland habitat. The effects of a fire that swept through the area in June 2005 are still evident, although several campsites in the popular campground still contain shady stands of pinyon pine and juniper.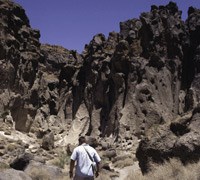 Hole-in-the-Wall
Information center, bookstore, campgrounds, picnic area, trailhead, restroom, water, telephone.
Just north of the junction of Black Canyon and the south end of Wild Horse Canyon Roads, rhyolite cliffs riddled with holes and hollows are the backdrop for Hole-in-the-Wall.
Last updated: March 31, 2012