Rock Spring Loop Trail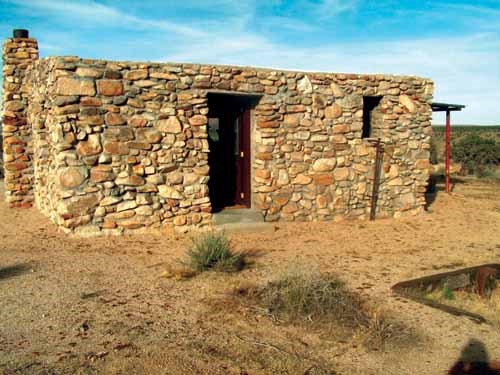 Christina Mills
Park Ranger
If you were wondering how anyone could-or would want to-live in the remote desert that is now Mojave National Preserve, take a walk along the Rock Spring Loop to find some answers.
The Rock House was constructed by Bert Smith in 1929. He came to this area to recover from poison gas exposure suffered during World War I. Doctors told him he didn't have long to live, but the dry desert air proved so beneficial to Smith's health that he lived here for 25 more years! The second long-term resident was artist Carl Faber, who lived and worked at the rock house in the 1980s, selling his artwork to passing travelers.
A few minutes into the hike, the remains of a milling operation from the 1930s are visible near the trail. Rich mineral deposits of gold, silver, copper, and other precious metals have been found across this region. Rock from nearby Watson Wash was hauled here and crushed to release the copper. The project met with little success and didn't last long. Prospectors often just walked away from such sites, leaving everything behind.
The trail continues to Rock Spring, one in a series of springs that dot the Mojave Desert every 20 to 30 miles, forming a natural travel corridor. This route eventually became known as the Mojave Road. Water means life in the desert, so humans and wildlife depended on this spring, as did the livestock later introduced by miners and ranchers. Exhibits near the spring describe the Chemehuevi Indians who formerly lived in the area, and Camp Rock Spring, an army outpost active briefly in the 1860s to protect mail and early travelers that passed along the route. Water is almost always present here, but rainfall determines if it's a slow trickle or several deep pools.
From the spring, the trail climbs a ridge overlooking Watson Wash with expansive views of the Hackberry and New York Mountains to the north and east. If you look carefully, you can also see portions of the Mojave Road, now a popular four-wheel-drive route. This section runs parallel to Cedar Canyon road. Leaving the ridgeline, you enter a small copse of juniper and pinyon trees that provide welcome shade as the trail leads you back to the Rock House.
This trail was constructed by a Volunteer Vacations crew in April 2009. Five volunteers from around the country contributed a week of their time to improve the grounds at the Rock House, install the picnic table, and establish this trail.
Last updated: May 10, 2021