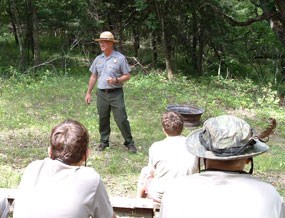 This Week's Programs and Events
2013 Programs and Events Schedule (PDF)
Like many other units of the National Park Service, MNRR offers a variety of ranger programs, activities, and tours for all ages. There are no fees for any interpretive or educational programs. Some programs are presented at state parks that charge an entrance fee.
Special exhibits, demonstrations, living history, and Junior Ranger programs are presented Sunday from 11:00 am to 1:00 pm at the Lewis & Clark visitor Center from Memorial Day through Labor Day. Topics include the equipment of the Lewis & Clark Expedition, early trade along the Missouri, and homesteading.
Evening campground programs and other activities are offered at our partner sites. Programs include ranger-led walking and bicycle tours, canoeing and fishing clinics, illustrated talks, and movie nights. Afternoon-long special events will be held on most Saturdays in the summer. For details click the links above.