Green Island Recreation Area

Green Island actually never used to be an island! This National Park Service property gets its name from the nearby town of Green Island, Nebraska which washed away during the flood of 1881. The town of Green Island was never rebuilt, but the name and story have persisted.

World War I brought more activity to the Green Island area. German prisoners of war (POWs) were brought to Yankton from Camp Algona in Iowa to work on projects during the late spring/early summer of 1945. The POWs worked to protect the Meridian Bridge and surrounding farmland from erosion caused by the river's pre-dam flow. Pilings were installed west of the Meridian Bridge to force water away from the bridge abutments. The remnants of these pilings can be seen today on the park's land-based trail.

During the last 10 years, Green Island has undergone quite a change. A backwater was restored as a mitigation measure during the construction of the Discovery Bridge. In 2008, the backwater was connected to the main river channel on the downstream end. The flood of 2011 eroded the upstream end of the backwater, creating an island with a flowering side channel. The Missouri National Recreational River acquired the property in 2014.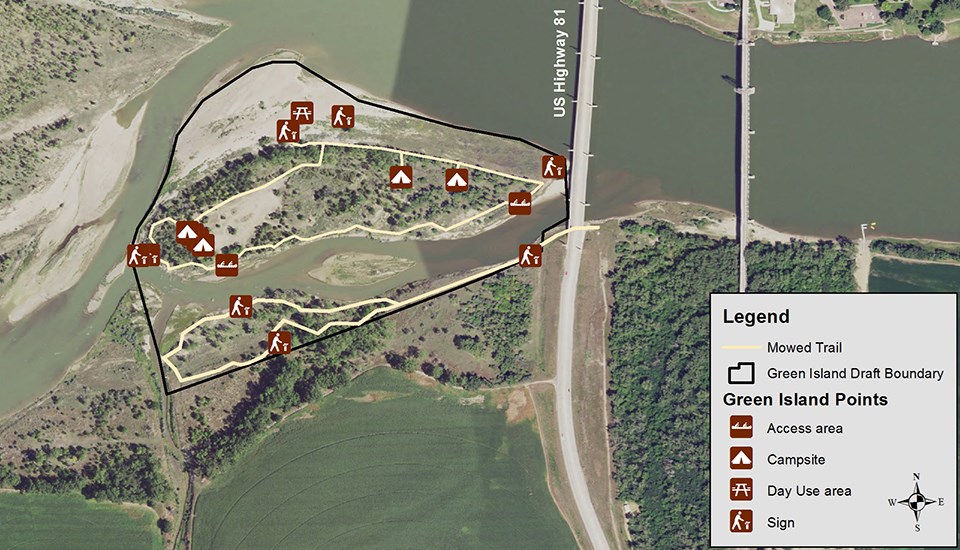 Camping
Green Island has five primitive campsites with fire rings. Two isolated tent sites on the east side of the island and three adjacent sites on the west side. Fires allowed only in designated fire rings. Island access is by boat only. Please visit the Camping page for rules and regulations.
Hiking
Green Island Recreation Area has 1.75 miles of mostly flat sand or gravel trails. Access to the island trail is only by boat; land access is by taking the Yankton City Forest trail.
Last updated: February 20, 2020