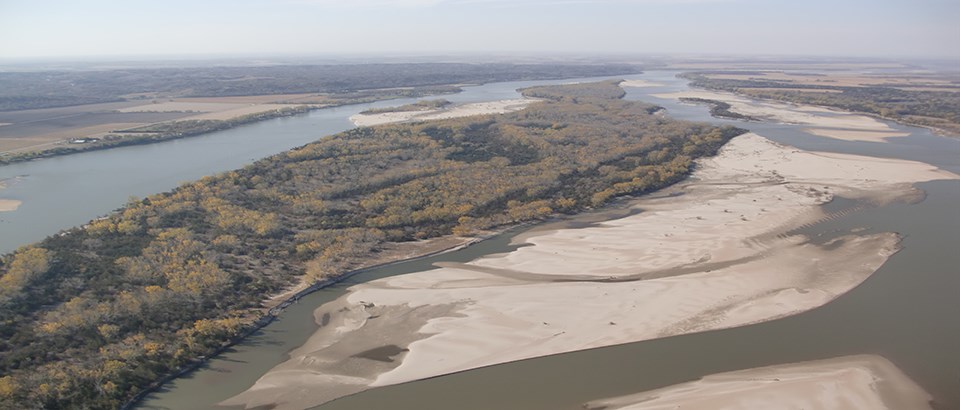 Goat Island Management Plan
During the Fall of 2016, the Bureau of Land Management (BLM), with the support of the states of Nebraska and South Dakota, agreed to transfer management authority of Goat Island, also known as Jake's Island, to the National Park Service (NPS) to be part of the Missouri National Recreational River.
An interagency planning team is developing a management plan for the island. The team is comprised of representatives from NPS, BLM, the states of Nebraska and South Dakota, and with consultation from Cedar County, NE and Clay County, SD.
While the management authority transfer process may take up to two years, the Goat Island Management Plan is on track to be complete by October 2018 and will provide the NPS a framework for decision making to accomplish the purposes and goals of the Missouri National Recreational River. The management plan will recommend how to:
Maintain visitor access;
Guide resource protection;
Determine education and interpretation activities;
Establish policy on hunting and other recreational uses; and
Incorporate public and stakeholder feedback.
The Goat Island Management Plan will not prescribe actions on adjacent private, city, or state property or upon areas where there is no direct Federal authority.
Please stay tuned to this page or on Facebook (@MissouriNationalRecreationalRiver) for updates, public meeting dates, or other opportunities to provide your feedback.
If you wish to comment on the Goat Island Management Plan, please address them by
email
, by Facebook (@MissouriNationalRecreationalRiver), calling 605-665-0209 Ext 30, or by mail to the address below:
Missouri National Recreational River
Attn: Goat Island Management Plan
508 E 2
nd
Street
Yankton, SD 57078