Goat Island Recreation Area

One quarter of one percent of all rivers in America have the distinction of being included within the National Wild and Scenic River System. Even fewer of these rivers have island areas open to the public that can be visited and explored. Goat Island lays within the 59-Mile District of the Missouri National Recreational River in between the two cities of Yankton and Vermillion, South Dakota.


This prominent island, also affectionately known and referred to by locals as Jake's Island, is a remnant of large emergent sandbars that later developed into successional forests and sand flats. While the overall landscape has changed with time and while the area is not specifically cited in the Lewis and Clark journals, geologic and riverine scientific study suggests a high probability the island existed during the passage of their expedition in 1804 and 1806. Today the 800-acre property supports a wide variety of wildlife on its sandbars and within its dense forested areas of cottonwood and Eastern red-cedar. Chutes paralleling the island, free-flowing water, vegetation, and sandbars not only provide important wildlife habitat, but add to the aesthetic qualities of the Park's 59-Mile District.
Goat Island provides unique and unparalleled recreational opportunities, as well as a place to simply pause and reflect. Situated along the Missouri National Recreational River Water Trail, the island is one of only a few places in both Nebraska and South Dakota where
island camping
, hiking,
hunting
, and other pleasure activities are available on publicly owned land. As part of the National Park Service System, the island is ideally suited as a stopover point for boaters navigating the river. Similarly, Goat Island provides a natural setting to hike trails or set out on one's own to explore and enjoy the riverine backdrop.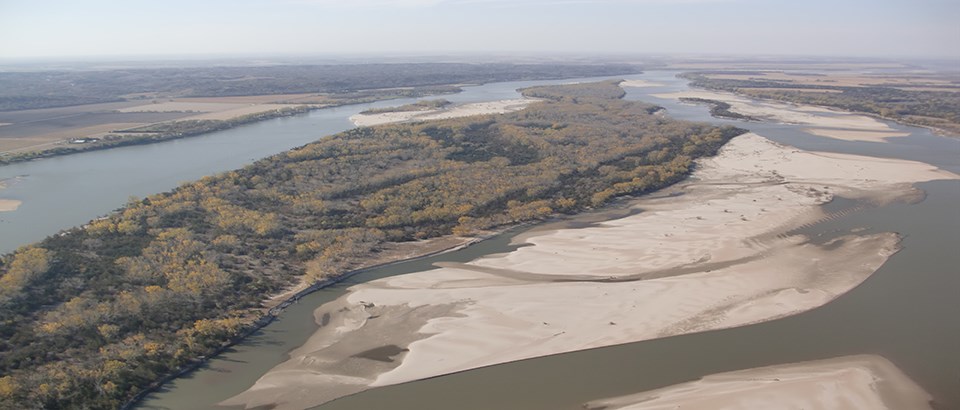 Goat Island Management Plan
On August 16, 2019, the National Park Service Acting Regional Director, Patricia Trap signed the decision record Finding of No Significant Impact (FONSI) for the Goat Island Management Plan and Environmental Assessment. The approved FONSI allows the National Park Service to implement the management plan, as described in the selected action.
Visit the
Goat Island Management Plan and Environmental Assessment FONSI
through the NPS Planning Environment and Public Comment (PEPC) website:
http://parkplanning.nps.gov/goatislandplan
.
The Goat Island Management Plan emphasizes the intent to retain the primitive character of the island in permanency. The overarching goal and management objectives outlined in the plan is to provide a quality recreational experience for visitors in the same spirit that historically contributed to the island's popularity.

Last updated: February 24, 2020