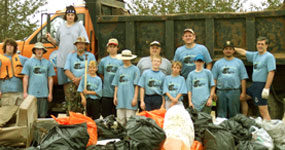 Public support is a critical component in the management of National Park Service lands. No other federal agency relies as heavily on the generosity and kindness of its visitors, and we thank you for your past support and look forward to future partnerships.
If you are looking for ways to help support Missouri National Recreational River in its efforts to preserve and protect its spectacular natural and cultural features, we recommend that you review the following links.
How You Can Help!
There are several ways of supporting Missouri National Recreational River:
Become a Volunteer - Volunteers are always being sought to help out in the Lewis and Clark Visitor Center and to assist in the annual river cleanup in May.
Leave No Trace - canoeing and camping is an excellent way to preserve and protect the resources along the river.
Stop by the Lewis and Clark Visitor Center - browse the books and merchandise that will help you learn more about the natural and cultural heritage of the area. Buy a souvenir to remember your trip to the "Big Muddy." Profits from the bookstore help benefit the park.