Lambert's Landing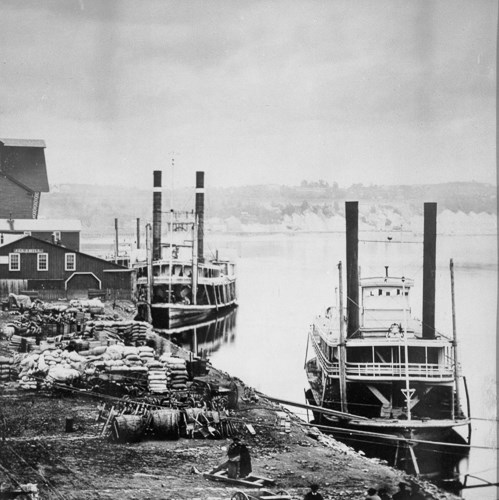 Introduction
The park is slightly over 21 acres in size, most of which is green space. The Samuel B. Morgan bike trail runs through the park along the river and connects to other parks and green spaces both up and downstream. This park is included in the Great River Passage, a vision for Saint Paul's riverfront.
History
St. Paul, known as I-MNI-ZA SKA DAN ("little white rocks") by the Dakota, was named because of the white cliffs comprised of St. Peter sandstone that are exposed in the area.
The park itself was known as the Lower Landing by early immigrants and was once one of the busiest steamboat landings in the country. The landing served as the arrival point for vast numbers of immigrants entering Minnesota and as the principal source of supply for the new community of St. Paul until the beginning of the railroad era in the 1880s.
Geography made St. Paul a natural destination for steamboats coming up river as it was here that they reached the upper limit of navigation due to a long stretch of rapids between here and the Falls of St. Anthony further upstream. Making the site even more attractive, there was a break in the Mississippi River's 80-foot high bluffs at the foot of present day Jackson Street.
In the early 1900s, a series of new dams from Hastings to Minneapolis moved the end of navigation to Minneapolis.
For many years the Mississippi River was the principal channel of communication for the city of St. Paul with its neighbors to the east and south. Before the coming of the railroads, the first docking of a steamboat each spring was a great event for St. Paul citizens who often responded with standing ovations. By the mid 1850s tens of thousands of immigrants, attracted by the promise of new and prosperous lives in Minnesota, were traveling the Mississippi River on steamboats to disembark to Lambert Landing.
The number of steamboat arrivals rapidly grew from 256 in 1854, to 1068 in 1858, the year St. Paul became the capitol of the new state of Minnesota. Each steamboat carried on average several hundred passengers.
By the 1870s, however, the day of the steamboat was numbered as immigrant travel to Minnesota shifted to railraods coming from the east.
The landing officially became known as "Lambert Landing" in 1937, upon its reconstruction by the Works Progress Administration as a revival of St. Paul's riverfront. It was named after Colonel George Lambert, a prominent figure in the crusade to modernize navigation on the Upper Mississippi River. In the 1950s most of the landing was removed for the construction of Warner Road.
The park is planned for rennovation. Interested parties can follow the design and implementation process at the Saint Paul website.
Activities
Activities at this park include walking and biking along the river and pickniking at several tables within the park.
Hours, Directions, and Contact Information
The park is located at the foot of Jackson Street and extends east from there. This park is best reached using the Samuel B. Morgan Trail. Access by vehicle is difficult.

514 Shepard Rd, St Paul, MN 55102 (Closest parking)

GPS: 44.946697, -93.082903 (Closest parking)
Sites Nearby:
Bruce Vento Nature Sanctuary, Indian Mounds Regional Park, Battle Creek Regional Park, Lilydale-Harriet Island Regional Park, NPS Mississippi River Visitor Center
Last updated: February 16, 2023