Bruce Vento Nature Sanctuary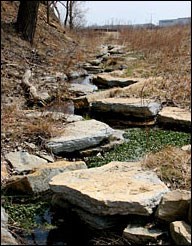 Introduction
This tiny sanctuary is just east of downtown Saint Paul. Surrounded by busy highways and railroads there is no access to the Mississippi River. Ongoing restoration programs is converting this once heavily polluted landscape into a haven for birds and other wildlife.
History
The Bruce Vento Nature Sanctuary, located along the north shore of the Mississippi River east of downtown Saint Paul, was a significant site for Native Americans. Wakan Tipi (Spirit House), a cave, is located in the sandstone bluff that rims the north edge of the park. When Jonathan Carver stopped here in late 1766, he described the cave's interior as having many incised figures cut into the soft stone. Later visitors to the cave, however, didn't describe these same markings; soft sandstone, flowing water, and ceiling collapses may have eroded or destroyed them. The cave still exists, but access isn't possible.

This was also the site of the North Star Brewery built in 1853. The brewery was later bought by Jacob Schmidt, a famous name in Minnesota brewing history.

In the late 1880s, railroads snaked their way into the area following the easy grades of the flat floodplains and the future park became an industrial area and rail yard.

The area was largely abandoned in the 1970s, until being made a Saint Paul park in 2005. Volunteers, Saint Paul Parks and Recreation, many neighborhood organizations, and the Mississippi National River and Recreation Area--some 25 stakeholders in all--are restoring the park to a mix of floodplain forest, prairie and oak savanna.

The 29 acre park is being restored to its native plant communities and the wildlife is returning. Two small ponds attract waterfowl and the uplands are home to grasslands bird species. Turkey vultures, bald eagles, and redtail hawks soar along the sandstone bluffs and many songbirds and other migrants flood through here in spring and fall. A spring-fed stream runs through the property. Wakan Tipi (Carver's Cave) is barricaded and not accessible, although the entrance is visible across a pond. Signage near the parking lot helps interpret the site.
Activities
Walking the trails, birdwatching, photography, and nature observation. There are nice views of the Saint Paul skyline upriver. There is no access to the river due to the railroads that still use this area.

Watching Wildlife, Hiking & Walks, and History & Culture.
Hours, Directions, and Contact Information
265 Commercial Street, Saint Paul, MN
GPS: 44.939155, -93.046364
Daylight through 11:00 p.m., unless otherwise posted. This area is isolated despite its proximity to downtown Saint Paul.
Contact Saint Paul Parks and Recreation at (651) 266-6400 for more information.
Nearby Sites
Indian Mounds Regional Park
,
Battle Creek Regional Park
,
Mississippi River Visitor Center
Last updated: February 16, 2023