Parks as Classrooms
Maggie L. Walker National Historic Site now offers the Maggie L. Walker: Her Life and Times Traveling Trunk for elementary school classes, daycares, after-school programs, church groups and other organizations. This Standard of Learning-based activity includes replica clothing from the early 20th Century, books, games, activities, posters and more.
All Traveling Trunks
Traveling Trunk
Reserve a Traveling Trunk for your class!
Learn More
Maggie L. Walker National Historic Site offers free, fun-filled curriculum-based educational programs throughout the year! Explore the visitor center, exhibit building and Mrs. Walker's home. Participate in a variety of hands-on educational activities that are tailored to meet the Standards of Learning and will excite students to uncover the remarkable story of a 20th-century role model.
All Field Trips
Field Trip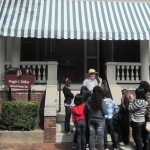 Plan a field trip!
Learn More
Last updated: February 26, 2015