Long-Distance Learning
Long-Distance Learning Opportunities
**All reservation dates for educational programs (virtual and in person) have been filled for the 2022-2023 school year.**

The Maggie L. Walker NHS has developed long-distance learning programs available to 1st grade classes and 4th grade classes. Each program has a combination of pre-visit activities, a ranger-led virtual tour of the Maggie L. Walker Historic Home, and post-visit activities helping to cover a variety of standards of learning for the Virginia 1st Graders, 4th graders and students across the country!

To schedule a long-distanced learning opportunity for your class, please email Stephanie Pooler at stephanie_pooler@nps.gov
Let Us Have a Bank: 1st Grade Program
The 1st grade long-distanced learning program about Maggie L. Walker focuses on her trailblazing time as the first African-American woman to open and run a bank in the United States. The main pre-activity consists of a new 20-minute film entitled "Blast Into The Past: Meet Mrs. Maggie L. Walker" (see below).
The ranger-led virtual tour talks more in-depth about Maggie L. Walker's life in Richmond, Virginia, and covers a vareity of standards of learning for 1st grades, ranging from Past, Present, and Future, Hard Work, the Importance of education and more!
Visit our keyboard shortcuts docs for details
Duration:

20 minutes, 21 seconds
In this film, geared toward 1st grade students, Maggie L. Walker (portrayed by Kesha Afrika Lucas) grants an interview to a young Junior Ranger (portrayed by Riley Roberts) who has traveled in a time machine to meet her hero and ask questions for her student newspaper.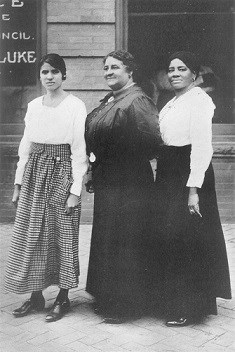 Segregation and Civil Rights: 4th Grade Program
The distanced learning program tailored for 4th grade students focuses on Maggie L. Walker's work as a civil rights activist fighting against segregation, how others have experienced segregation in Virginia and how she was able to raise herself and her community up in the shadow of Jim Crow. The main pre-activity for the fourth grade program is a
20-minute film
which provides an overview of Maggie L. Walker's life, covering events ranging from her opening a bank to civil rights activism and more!
The ranger-led virtual tour of the Maggie L. Walker Historic Home leads the students through Mrs. Walker's home focusing on her community building efforts, family life and work during the Jim Crow Era of Virginia. The rangers also ensure that at the end of the tour there is time to take questions from the students about Maggie L. Walker.
In addition to the tour, we're pleased to feature our new film, "Maggie Walker Explains Jim Crow" here (see below).
Visit our keyboard shortcuts docs for details
Duration:

11 minutes, 43 seconds
In this video, geared toward 4th graders, Maggie L. Walker meets three present-day students, explaining the injustices and institutionalized racism she and other Black Americans faced during her lifetime and how she challenged that system.
Designing a Bank: Follow in Mrs. Walker's footsteps: Middle and High School Students
High and Middle school students programs can combine learning history with S.T.E.M. education. Teachers may select from a
post-visit lesson
, that explores how Maggie L. Walker used banks for African American economic advancement in the Jim Crow Era. The main highlight of the programs is the crafting of 3D printed coin banks, similar to the same type Maggie L. Walker and the IOSL distributed to members in the early 1900's.
Last updated: January 12, 2023