Be A Junior Ranger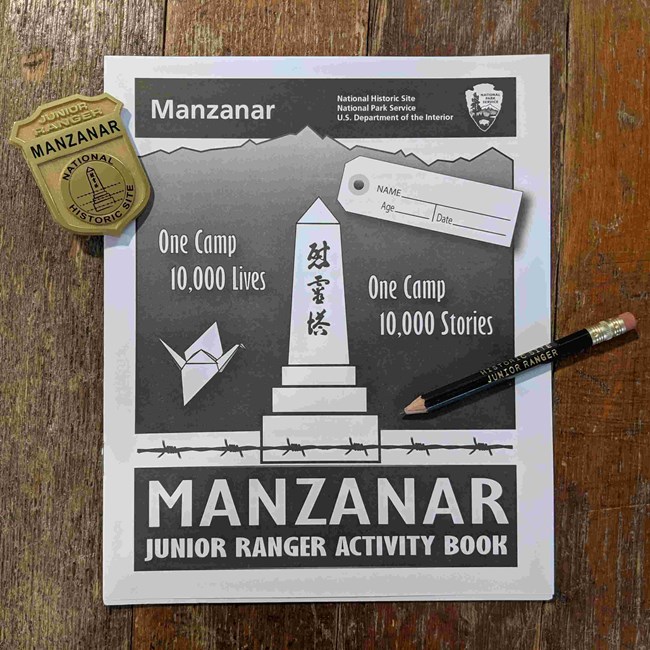 Manzanar's Junior Ranger program offers a great opportunity for children to interact with National Park Rangers, experience exhibits, watch the 22-minute film and explore the site. Participants in the program will complete an activity booklet consisting of a dozen activities including a scavenger hunt, word puzzle, word search, mapping and writing activities. These activities highlight Manzanar and Owens Valley history and introduce the peoples who lived at Manzanar.
While many children struggle with the concept of incarceration, the Junior Ranger program offers one way for them to connect with this place and its stories. Children who complete the program will earn a Junior Ranger badge and certificate. Activities are tailored for children between the ages of 4 to 15; however, anyone is welcome to participate.

Many National Park Sites have their own Junior Ranger Programs, collect a badge at each one!

Getting Your Junior Ranger Booklet
Junior Ranger booklets can be picked up at the front desk of our visitor center. You can also email us with your address and we can mail you a copy.
Completing Your Junior Ranger Booklet from Home
If you want to become a Manzanar Junior Ranger, but were not able to complete the booklet on your visit or are not able to visit Manzanar, you can still complete the program. Just follow the directions on the inside cover of the Manzanar Junior Ranger booklet, "Welcome to the Manzanar Junior Ranger Program."

While many of the activities are intended for an on-site visit you can complete the following substitute activities to become a Junior Ranger:
1. Watch the Park Film
"Remembering Manzanar" can be found on our YouTube channel.

2. Activity: Follow the Clues
Conduct an online search to learn about the experience of someone at Manzanar. Read about the person and answer the questions related to that activity. Try searching for one of the following people:
Sue Kunitomi Embrey
Larry Shinoda
Iwao Takamoto
Mary Kagayama Nomura
Ralph Lazo
Toyo Miyatake
Ryozo Kado
3. Activity: War Relocation Centers
Look at this map of the War Relocation Centers and then complete the questions and activities about the map.

4. Activity: Toy Loan Library
Research a toy or game from the 1940s. Hint: look online or talk to people who lived in the 1940s. Once you find a toy or game, draw a picture of it.

5. Activity: Manzanar Tic-Tac-Toe
Search on our website to find the images shown with this activity. Once you find the images, mark them off on the activity. Feel free to substitute other images that you find online of the site.

6. Activity: Reflect
Draw a picture or write about something interesting you learned about Manzanar.
Getting your Badge
Once you have completed the activities for your age group, mail the booklet to Manzanar National Historic Site.

Attn: Junior Ranger Program
P.O. Box 426
Independence, CA 93526.

A ranger will certify your booklet, sign it, and mail the completed booklet back to you along with your Junior Ranger Badge. Remember to please include your name and return address.

Thank you for learning about Manzanar National Historic Site. Please let us know if you have any questions or comments. Call 760.878.2194 ext. 3310 or email us.
Other Junior Ranger Programs Offered at Manzanar
Junior Ranger Angler - Complete the booklet to earn a badge!
Scout Ranger and Girl Scout Ranger - Participate in organized educational activities or volunteer service projects for a minimum of ten (10) hours at one or more national parks to earn a patch!


Last updated: July 31, 2021