Things To Do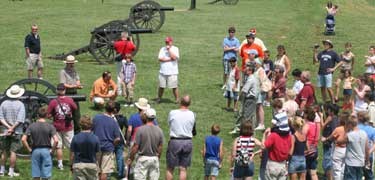 If you have less than two hours to visit:
Join a park ranger for a walking tour.

Explore the Visitor Center museum.
View the 6-minute fiber-optic battle map.
Watch the park's 45 minute orientation film Manassas: End of Innocence.
Walk the Henry Hill Loop Trail (1.1 mile).

Browse the park gift shop.

If you have more than two hours to visit:

Attend multiple ranger-led walking tours (schedule varies by season)

Take the self-guided driving tour (20 miles of driving, approximately 2-3 hours).
Visit the Brawner Farm Interpretive Center (open seasonally).
Visit the historic Stone House (open seasonally).
Hike the First Manassas Loop Trail (5.4 miles) or the Second Manassas Loop Trail (6.2 miles).
Download the First and Second Manassas battle apps for detailed overviews of each engagement.


Last updated: April 10, 2015