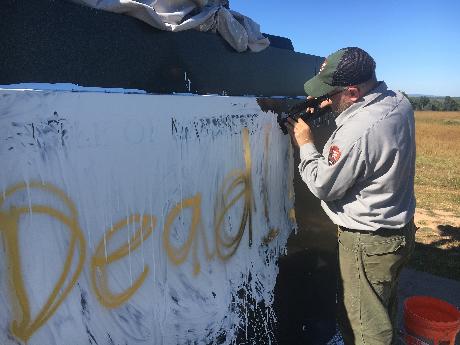 News Release Date:
October 4, 2017
Contact: Ray Brown
Contact: Jenny Anzelmo-Sarles
Manassas, Va. – The National Park Service (NPS) is actively working to remove paint that was poured and sprayed on the General Thomas J. "Stonewall" Jackson monument at Manassas National Battlefield Park. The vandalism happened overnight and was discovered at approximately 6:30 a.m. on Wednesday, October 4.

Vandals poured a large quantity of white paint on three of the four sides of the polished granite base, and "Dead!!!" was painted in gold spray paint. NPS law enforcement park rangers are investigating the incident; anyone with information is asked to call 301-714-2235.

NPS preservation experts have started to remove the paint from the monument, and are assessing the best methods to remove remaining paint, oils and residue.

The monument was erected in 1940 at the site where Jackson first received the nickname "Stonewall," at the First Battle of Manassas on July 21, 1861.
###