First Solar Panel Array Installed at Manassas National Battlefield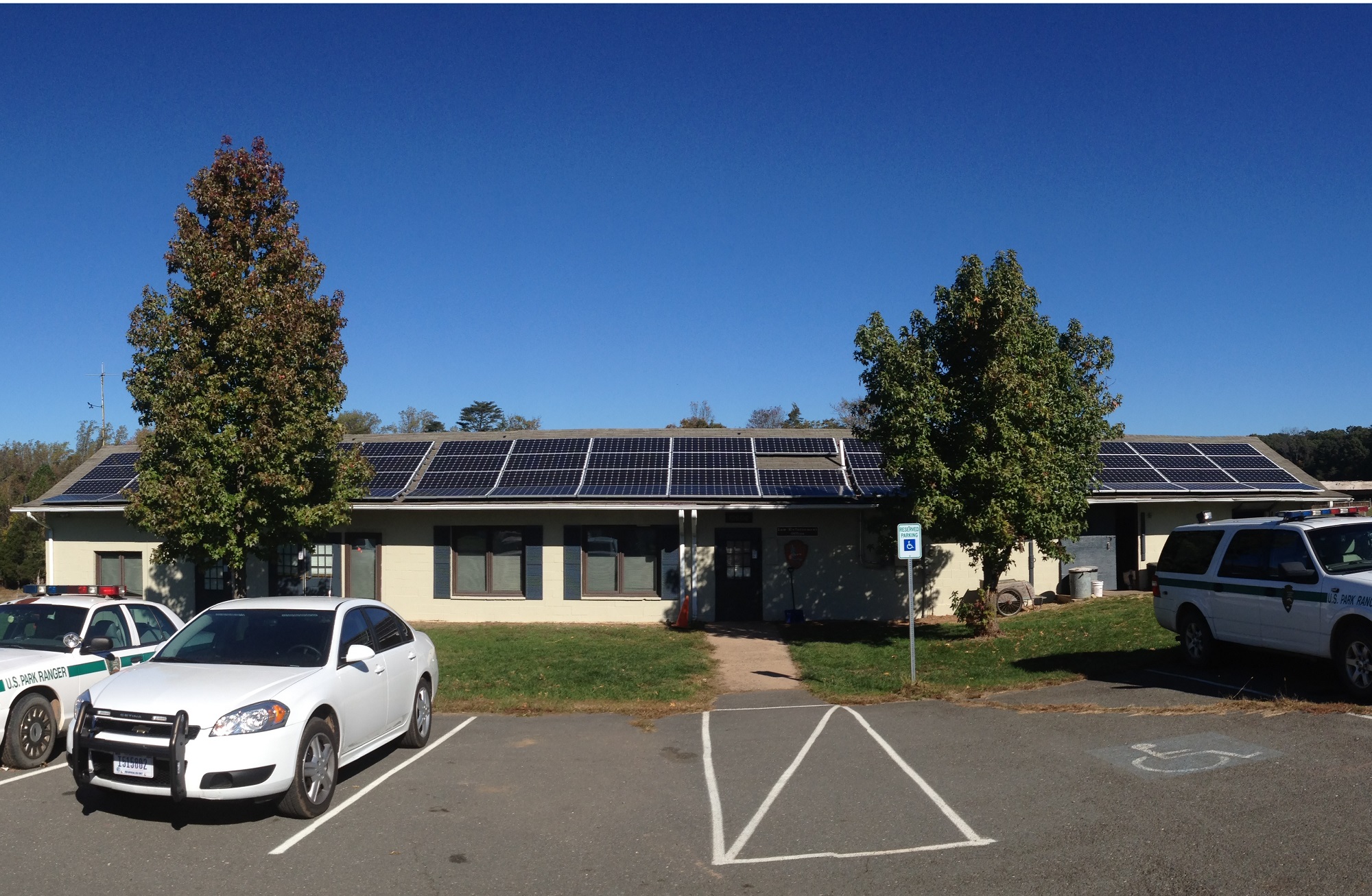 News Release Date:
January 5, 2016
Contact: Katie Liming, 202-619-7136
Contact: Scott Nadler, 202-841-1777
MANASSAS, Va. – The National Park Service (NPS) and Siemens announced today the installation of two solar panel systems at Manassas National Battlefield Park, which will reduce energy costs at no upfront cost to taxpayers. The solar panels are the first to be installed in a greater Washington national park as part of a $29 million Energy Savings Performance Contract announced in Oct. 2014. Located on the park headquarters and ranger office buildings, the solar arrays are projected to produce 65 percent of the electricity for these buildings.
The introduction of solar energy is one of several energy and water conservation measures, which also include installation of "intelligent" LED lighting control systems and low-flow, high efficiency plumbing fixtures. Similar renewable energy infrastructure upgrades are planned for other national parks in the near future.
"Manassas National Battlefield Park is committed to serving as a responsible steward of both natural resources and Americans' tax dollars," Superintendent Jon James said. "These efforts to install solar panels, improve lighting efficiency, and conserve water will help us to better preserve Manassas National Battlefield Park for future generations."
Given the battlefield's historic significance, careful attention was paid to ensure that the placement of the panels maximized the amount of solar production, while protecting historic sight-lines and ensuring zero impact. The solar arrays at the park are mounted flush to the roofs and tilted to match the slope of the roofs. Manassas National Battlefield Park, located an hour from Washington, D.C., protects and interprets the area where two Civil War battles were fought, in 1861 and 1862. Almost all of the buildings are on the National Register of Historic Places and some date to the original battles. The existing structures and landscape are critical to public education programs and Civil War battle living history demonstrations.
These improvements are funded through an Energy Savings Performance Contract (ESPC), an alternative financial mechanism that allows federal agencies to reduce their energy use by accelerating investment in cost effective energy conservation measures, while incurring no upfront capital costs, reducing operating costs and retaining associated savings. The energy and water savings will allow NPS to advance President Obama's goal for federal facilities to generate 20 percent of their energy from renewables by 2020.
"Siemens is proud to partner with the National Park Service and apply our innovative energy and environmental expertise to help meet its mission to save energy and use renewable energy," said Barbara Humpton, president and chief executive officer, Siemens Government Technologies, Inc. "As the largest single user of energy in the U.S., the Federal government is leading by example through its commitment to improving the energy efficiency of America's publicly-owned buildings, parks and historic sites."
Participating Parks:
• Antietam National Battlefield (Md.)
• Catoctin Mountain Park (Md.)
• Chesapeake and Ohio Canal National Historical Park (DC, Md., Va.)
• Harpers Ferry National Historical Park (WVa., Va., Md.)
• Manassas National Battlefield Park (Va.)
• Monocacy National Battlefield (Md.)
• National Capital Parks- East (DC, Md.)
• National Mall and Memorial Parks (DC)
• George Washington Memorial Parkway (DC, Md., Va.)
• President's Park (DC)
• Prince William Forest Park (Va.)
• Rock Creek Park (DC)
• Wolf Trap National Park for the Performing Arts (Va.)
Last updated: January 12, 2016