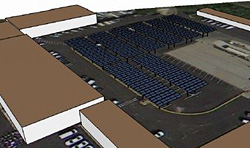 The 23-year Energy Savings Performance Contract (ESPC), awarded in September 2014 to Siemens Government Technologies, will allow the NPS to conserve energy and water with no upfront costs and to accrue cost savings into the future. The project is funded by savings generated through the new energy conservation measures. Savings are guaranteed by Siemens and will allow NPS to advance President Obama's vision that federal facilities generate 20 percent of their energy from renewable sources by 2020. 
The new energy conservation measures will allow 13 D.C. area national parks to make significant reductions in Greenhouse Gas emissions and Carbon Footprint, water and energy consumption and deferred maintenance backlogs. Greater efficiency will reduce carbon dioxide emissions by more than 4,000 tons each year, reduce water usage by 74 million gallons each year and reduce energy use by nearly 20,000 MBtus each year. 
Specific projects include installing intelligent lighting and water controls that regulate themselves to be most effective and efficient for the conditions, replacing outdated and high energy use heating and air conditioning systems and installing photovoltaic solar arrays. The ESPC project kicked off with the installation of two solar panel arrays at Manassas National Battlefield Park.