Mary McLeod Bethune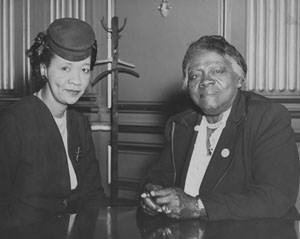 (1875-1955)
Mary McLeod Bethune used the power of education, political activism, and civil service to achieve racial and gender equality throughout the United States and the world. The first person in her family born free and the only person in her family afforded a formal education, Bethune emerged from abject poverty and oppression of the Reconstruction Era South to achieve greatness.
With a passion to educate and empower young African American women, Bethune founded the Daytona Normal and Industrial School for Negro Girls in 1904. In the mid-1920s her school became co-educational and was renamed Bethune-Cookman College. At the time, it was one of the very few institutions below the Mason-Dixon Line where African Americans could achieve a higher education than a high school diploma. Today her school is a fully accredited university.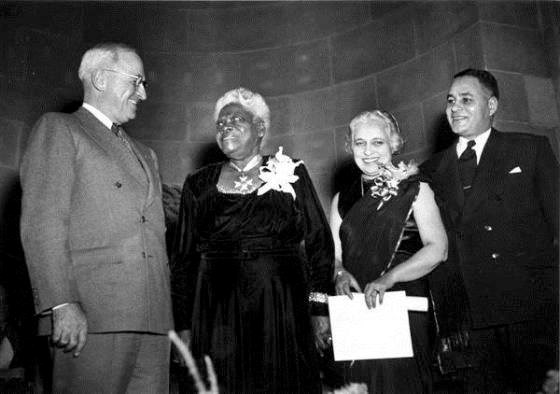 As President of a college, Bethune gained prominence and national recognition. In 1935, President Roosevelt called upon Mary McLeod Bethune to serve as a special advisor to a New Deal program called the National Youth Administration (NYA). The following year, she was appointed the Director of the Division of Negro Affairs of the NYA, becoming the first African American woman to head a federal agency. Her work with the NYA helped African American youth find employment and opportunity during the Great Depression. When World War II broke out, Bethune advised President Roosevelt about the vital importance of enabling African American women to serve their country. Appointed by the President himself, Bethune worked with the Women's Army Corps in the recruitment of African American female officers. These women would go on to serve valiantly in the European theater.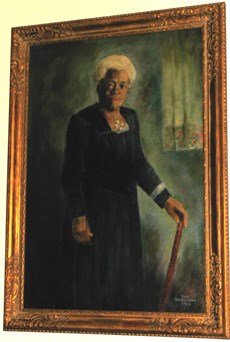 While still administering her school and serving as a member of President Roosevelt's adminstration, Bethune founded the National Council of Negro Women (NCNW) on December 5, 1935 in order to combat racial, class, and gender discrimination worldwide. The NCNW sought to unite the tens of thousands of African American women's clubs under one umbrella, capable of instituting lasting change in the fight for women's rights and civil rights. Their global vision, ability to reach across the aisle, and Bethune's long-term vision helped lay a solid foundation on which the NCNW still stands today.
Inspired by her friend and colleague,
Dr. Carter G. Woodson,
Mary McLeod Bethune collected and preserved African American women's history. The National Park Service continues to preserve this invaluable
archive
. Today, the National Archive for Black Women's History remains the only archive solely dedicated to African American women.
Learn more about Bethune's accomplishments on the
Bethune Résumé
.


Last updated: August 18, 2018