Mary McLeod Bethune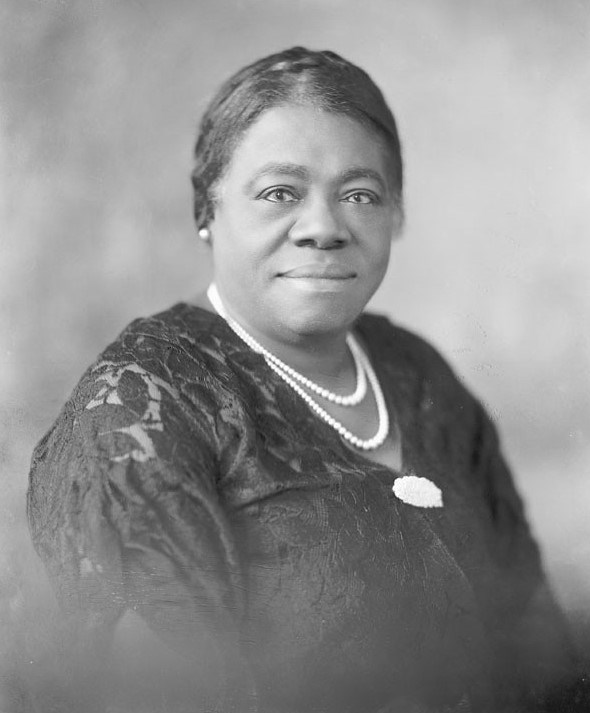 (July 10, 1875 - May 18, 1955)
Mary McLeod Bethune used the power of education, political activism, and civil service to achieve racial and gender equality throughout the United States and the world. The first person in her family born free and the first person in her family afforded a formal education, Bethune emerged from abject poverty and oppression of the Reconstruction Era South to achieve greatness.
Born Mary Jane McLeod, she had the unusual opportunity to attend school and receive an education not common among African Americans following the Civil War. Most of her schooling prepared her for missionary work abroad, though she would never serve. Instead, she taught at schools in Georgia and South Carolina. In Sumter, South Carolina, she met her husband, Albertus Bethune, and within a year gave birth to their son, Albert. The family moved to Palatka, Florida, approximately 50 miles south of Jacksonville. There, she established a missionary school. Bethune moved again to Daytona Beach and established another school—the Daytona Normal and Industrial Institute for Negro Girls—on October 3, 1904 that she grew from five girls (plus her son) to a high school. In 1923, this school merged with the all-male Cookman Institute of Jacksonville, Florida, and in 1931, the school became accredited by the Association of Colleges and Secondary Schools of the Southern States, with its name officially changed to Bethune-Cookman College, at which time Bethune became the first African American woman to serve as a college president. At the time, it was one of the very few institutions below the Mason-Dixon Line where African Americans could receive something higher than a high school diploma. Now a fully accredited university, the school enrolls over 4,000 students.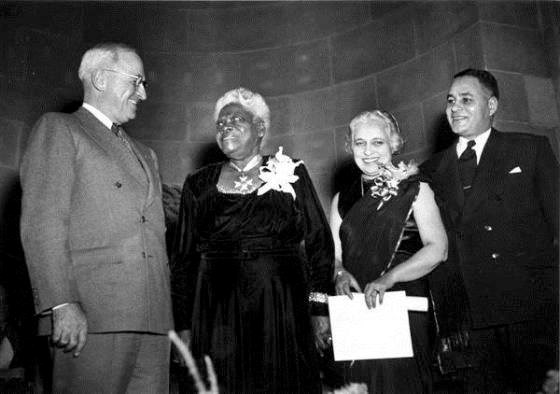 While working in Daytona Beach, Bethune became involved with a number of clubs and organizations supporting the efforts of African American women. Beginning first at a state level, Bethune worked to establish programs that would fight to end segregated education, to improve healthcare for black children, and to help women use the ballot to advance equality. Her successes on a local level propelled her to the national stage when the National Association of Colored Women (NACW) elected her its eighth national president in 1924. Working with a large national organization helped Bethune develop a network of contacts. Bethune's previous administrative experiences served her well, and she proved to be a capable manager of the day-to-day affairs of the 10,000 member association. She grew the organization, undertook fundraising activities, and strengthened communication between its members. When her tenure as president ended, she began to formulate plans for an umbrella organization that would not just focus on making women better people, but on helping them to become agents of social change. The results of these plans drove her to create the National Council of Negro Women, Inc. (NCNW) on December 5, 1935, at which time she was unanimously elected its first president, serving until 1949. Under her leadership, the NCNW grew to over 850,000 members. Today, the over 4 million members of the NCNW continue the work begun by Bethune.

As President of a college, civil rights champion, and a leader of women, Bethune gained prominence which brought her national recognition as well as attention from presidents of the United States. After serving as an advisor to Presidents Calvin Coolidge and Herbert Hoover receiving appointments to a number of commissions that advised the president on labor and youth employment as well as education, her most notable contribution ocurred in 1935 when President Franklin D. Roosevelt called her to Washington. He had asked Bethune to serve as a Special Advisor to the National Youth Administration. He was so impressed with her work that the following year, he created her own department within the agency and appointed the sixty-one year old Bethune its Director of Negro Affairs, at which time she became the first African American woman to head a federal agency. Also, by creating the Federal Council on Negro Affairs—also called the "Black Cabinet," she and other council members worked to increase opportunities for African Americans during the New Deal. During World War II, she advised President Harry S. Truman and continued to fight for African Americans, particularly for the inclusion of African American women in the WAACS (Women's Auxiliary Army Corps) and WAVES (Women Appointed for Voluntary Emergency Service). These women would go on to serve valiantly in the European theater.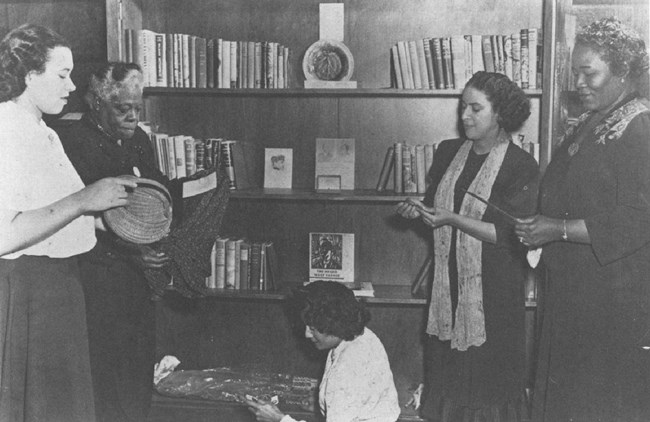 A woman of many hats, Bethune was also a chronicler of African American history. She recognized the importance of preserving historical records about the rich and diverse contributions African American women have made to the American culture. She envisioned a permanent and growing collection which would be used by historians and educators. She uniquely understood the significance of maintaining an archives of black women's history and the impact it would have on future generations. Bethune was great friends with
Dr. Carter G. Woodson
and served as the first female president of his organization, the Association for the Study of Negro Life and History, Inc. and was also involved in other projects to preserve the history of African American women and the documentation of their achievements. Today, the Mary McLeod Bethune Council House NHS also includes the
National Archives for Black Women's History
as part of Bethune's legacy, and to date, remains the only archive solely dedicated to the collection, preservation, and interpretation of African American women.
Learn more about Mary McLeod Bethune's accomplishments by taking a look at her
Résumé
.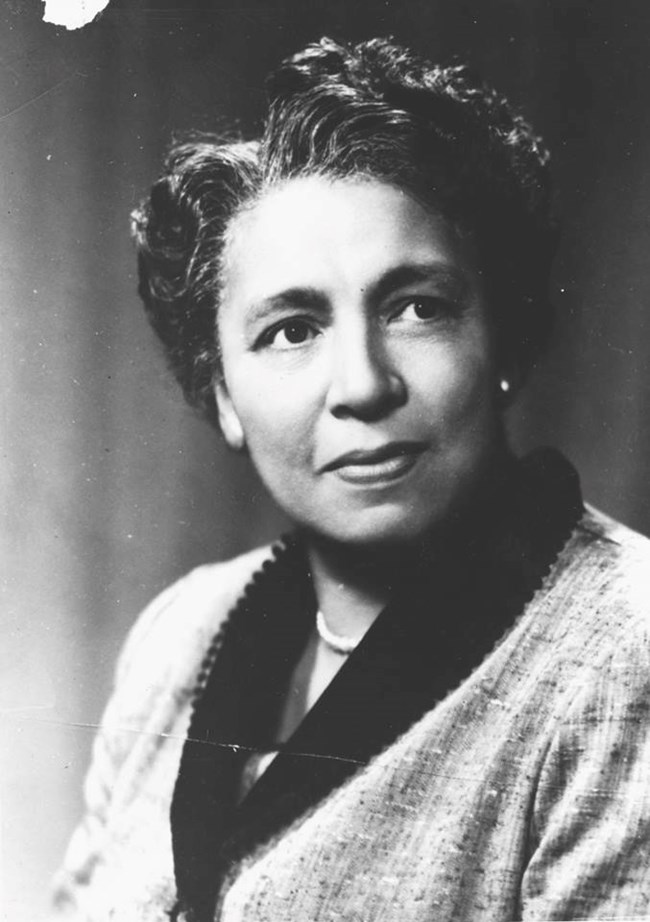 Women of the House: The National Council of Negro Women Beyond Bethune
When Mary McLeod Bethune decided to step down as president of the NCNW in 1949, she ensured the membership that her successors would continue to help carry on the mission of the organization. The three presidents of the NCNW that came after her were some of the most intelligent, pedigreed, competent, and respected women living in the United States at the time. Learn more about these women and their accomplishments while president of the NCNW below.
Dorothy Boulding Ferebee
(October 10, 1898 - September 14, 1980)
In 1949 when Mary McLeod Bethune resigned from the presidency of the NCNW, she had selected Dr. Dorothy Boulding Ferebee, her personal physician and NCNW's national treasurer, to be her successor. Not surprisingly, Ferebee put increased emphasis on healthcare education. Under her leadership, NCNW also focused on ending discrimination against blacks and women in the military, housing, employment, and voting. She continued fundraising efforts and participated in various meetings of national and international organizations. She was a member of the executive board of the White House's Children and Youth Council and the United Nations Children's Fund (UNICEF).
In 1951, Ferebee led NCNW in hosting a reception for the wife of the Vice-President at the Shoreham Hotel in Washington, D.C. This event was important because it gathered approximately 500 women from diverse backgrounds. As a result of Ferebee's determination and leadership, it also was the first time that a major Washington, D.C. hotel had rented its main ballroom to an African American group. During her presidency, Ferebee also issued a "Nine Point Program" which called attention to the need to achieve "basic civil rights through education and legislation." She worked hard to advance NCNW's agenda while maintaining a full-time job at Howard University and dealing with limited funds and staff.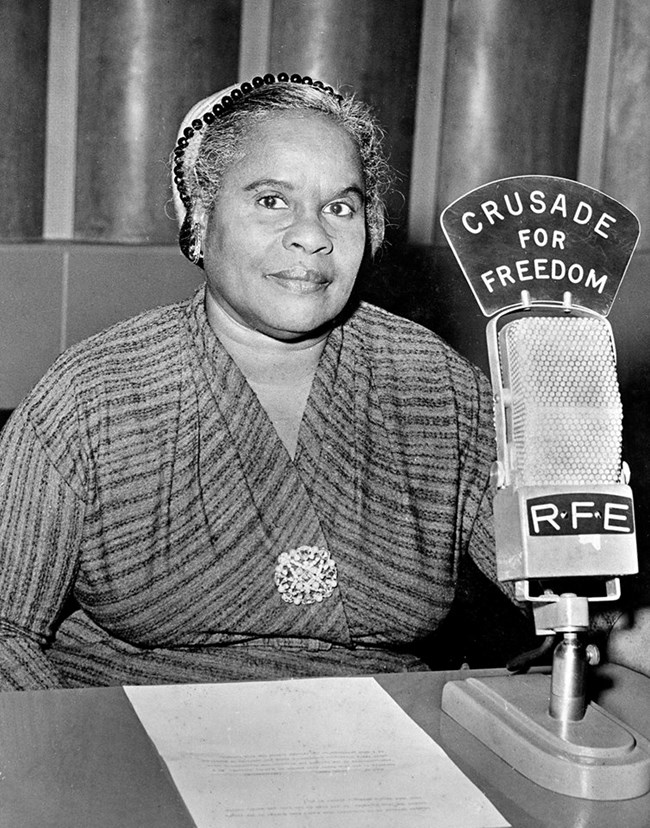 Vivian Carter Mason
(February 10, 1890 - May 10, 1982)
In November 1953, the NCNW elected Vivian Carter Mason as president. A graduate of the University of Chicago, Mason had been the first black female administrator in New York City's Department of Welfare. She was president of the Norfolk, Virginia chapter of the NCNW and later vice-president of the national organization under Dr. Ferebee. Mason's administrative skills were beneficial in helping to better organize NCNW's headquarters and connect local chapters to the national office. Under her leadership, NCNW members participated in numerous meetings and conferences held by such groups as the U.N. Commission on the Status of Women, the American Association for the United Nations, the International Council of Women of the World, and the National Advisory Committee on Health.
Mason served as president when NCNW marked its 20th anniversary in 1955. At a celebration on February 26th, Mary McLeod Bethune praised Mason and the council members by saying, "I am very grateful to you, my daughters. I have been the dreamer. But, oh, how wonderfully you have interpreted my dreams." Three months later on May 18th, Bethune died of a heart attack at her Daytona Beach home at the age of 79. Mason took on the daunting task of leading the organization in the midst of their grief over the loss of the their beloved founder. She continued Bethune and the organization's work by helping African American women break down barriers that often isolated them from mainstream America. Through perseverance, Mason and the NCNW helped make it acceptable for black women to be a part of national and international affairs. Through increased interaction with white female organizations, NCNW tried to unite all women as equals and present a more accurate image of black women to the world.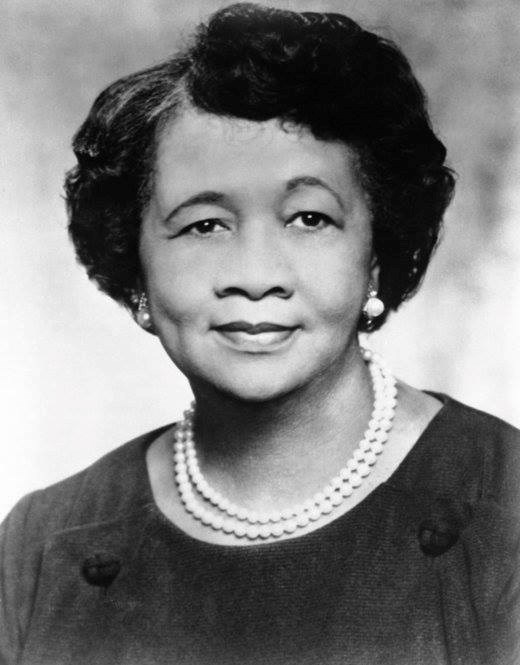 Dorothy Irene Height
(March 24, 1912 - April 20, 2010)
In 1957, Dorothy Irene Height, who had served for 20 years in various appointed positions with NCNW, became its fourth president. Height had the arduous task of leading NCNW during the early 1960s, a turbulent period of increased racial violence in the South as the Civil Rights Movement expanded. In 1963, she had offered the NCNW's headquarters as a meeting place for national organizations and individuals taking part in the March on Washington for Jobs and Freedom on August 28th. During this period, civil rights advocates were being arrested in states such as Mississippi, Alabama, and Georgia. As tensions mounted, Height and NCNW launched a plan that called for racially mixed groups of women to visit rural communities in Mississippi each week during the summer of 1964 to foster better communication among the races and encourage voter registration among blacks. This highly successful project was known as "Wednesdays in Mississippi."
One of NCNW's consistent problems had been lack of funds, caused in part because the organization did not qualify for tax-exempt status. Without this designation, foundations and philanthropists were unlikely to donate large sums of money to NCNW because they had to pay taxes on their gift. Height made it a priority to revise the Articles of Incorporation and make other changes that resulted in the U.S. Internal Revenue Service granting tax-exempt status in 1966. That same year, sizeable grants from the Ford Foundation and the Department of Health, Education, and Welfare allowed NCNW to begin a "nationwide network of Negro women, working with all segments of their communities, middle-class and poor, Negro and white, to help chart and carry out needed community service and social action programs." Increased funding allowed the council to expand and standardize its programs on the local, national, and international levels.

While the council enjoyed a period of substantial growth in the mid-1960s, its headquarters suffered major water and smoke damage from a fire started by a leak in the heating oil tank in January 1966. As a result, NCNW had to move its headquarters to the Dupont Circle area. The building that had witnessed two decades of NCNW gatherings and had stood as a symbol to NCNW members remained vacant for several years. Finally, in 1975, grant money enabled NCNW members to begin restoring the townhouse for the purpose of reopening it as a museum. On November 11, 1979, the Mary McLeod Bethune Memorial Museum and National Archives for Black Women's History opened to the public. Decades earlier, Bethune recognized the need to preserve records related to African American history, particularly ones focusing on African American women.
On October 15, 1982, an act of Congress designated the property a National Historic Site. The National Park Service acquired it in 1994 and opened it to the public as the Mary McLeod Bethune Council House National Historic Site on October 1, 1995, making it the 287th unit of the national park system. That same year, Height and NCNW members proudly dedicated a new national headquarters at 633 Pennsylvania Avenue, N.W., a prestigious address just blocks away from the White House and the U.S. Capitol. Height continued as president of NCNW until 1998 when she became Chair and President Emeritus.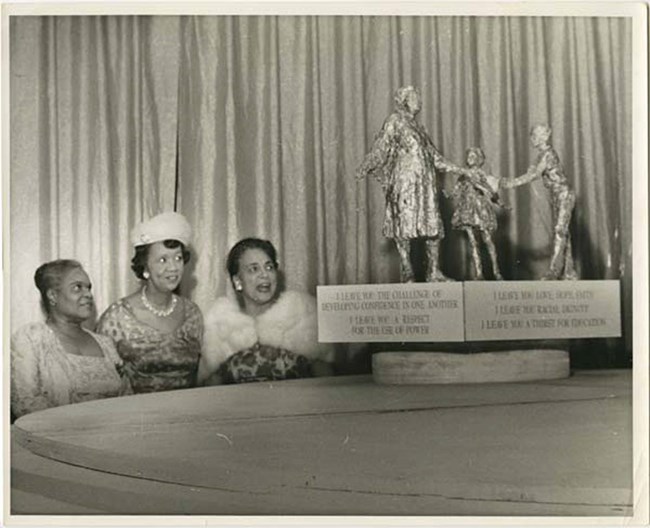 Today, the Mary McLeod Bethune Council House National Historic Site stands as a poignant memorial not only to Bethune herself, but the many African American women who worked tirelessly to institute change in American society.


Last updated: July 17, 2020