News Release
National Park Announces 2019 Artist-in-Residence: Margaret Dwyer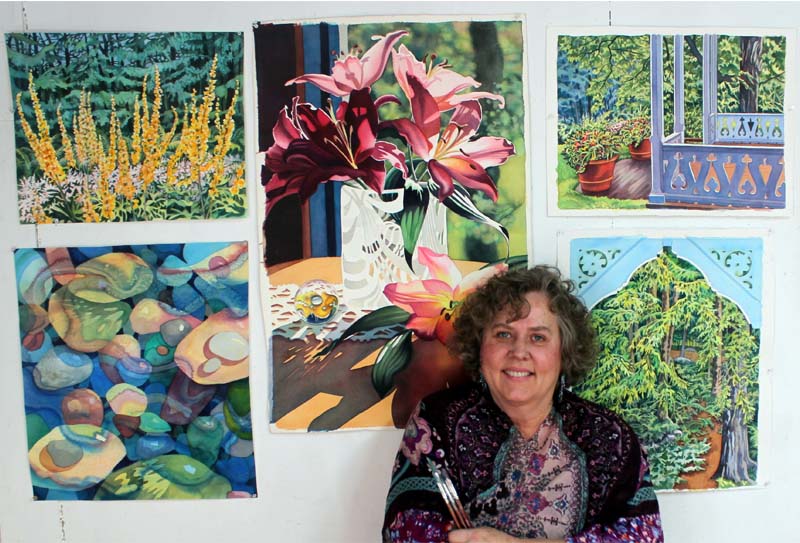 News Release Date:
June 10, 2019
Contact: Stephanie Kyriazis, 8024573368 222
Marsh-Billings-Rockefeller National Historical Park is pleased to announce its 2019 Artist-in-Residence (AIR), Margaret Dwyer, a multi-media artist with a specialization in watercolor. Her residency at the national park will run from June until October and feature numerous events, workshops and open studio days. The national park's AIR program operates in partnership with ArtisTree Community Arts Center, where several of Dwyer's workshops will take place.
Margaret Dwyer's art career spans nearly four decades, involving both studio work and prolific teaching of adults and children at art centers across Vermont and New Hampshire. "I love being a studio artist, but I also have a real passion for teaching," Dwyer reflects. "It inspires me to connect with other creative people and lifelong learners. Ideas and artistic methods are constantly in motion in my studio practice and it is a joy to share that with others through teaching."
Dwyer earned her Master of Fine Arts degree in Visual Arts from Vermont College of Fine Arts. Her thesis work focused on psychological themes such as processing trauma and better understanding the mysteries of the unconscious landscape. In addition to painting, her repertoire includes experimental art, photography, handmade artist books, drawing, printmaking, felting, jewelry, sculpture, and murals. Dwyer's work has gained recognition in numerous juried national and international exhibitions and been published in fine art books and magazines. Her art explores the many facets of connection between people and the natural world, frequently focusing on the New England landscape, water, and human or animal figures situated in natural settings. View her portfolio at
https://www.margaretdwyerartist.com/
"Margaret is such a versatile artist and a creative, dynamic teacher, whose work captures a strong sense of place and demonstrates a passion for the natural world," says Chief of Interpretation Stephanie Kyriazis. "The variety of classes she's offering this summer will provide opportunities for artists young and old, beginner to professional, to connect with nature here at the national park and beyond."  
The following workshops will take place at Marsh-Billings-Rockefeller NHP, and are free and open to the public:
Making Nature Journals
Saturday June 15th, 1pm-3:30pm
Make your own spiral bound nature journal with bookmaking tools and supplies. Decorate the cover with printmaking techniques using leaves and ferns, or make your own heat moldable foam stamps to capture shapes and textures of natural specimens. These journals are great for writing or drawing.
All ages, limit 16 people
Location: Pony Shed Artist-in-Residence Studio
Sip & Paint Summer Soiree
Friday, August 2nd, 5:30pm-7pm
The flowers will be in full bloom and Artist, Margaret Dwyer, will be painting botanicals from the formal gardens in watercolor. You are welcome to take a mini painting lesson and try your hand at this incredible medium. Sit under the tent and paint or take your supplies to the garden and work among summer's floral splendor. Bring your own painting beverage of choice and enjoy a warm summer night on the mansion lawn.
All ages
Location: Mansion Lawn
Nature inspired watercolor workshop for Adults: The Colors of Fall
Saturday, October 12th, 1pm-4pm
Look closer at the incredible colors and details of fall leaves and learn to capture them with watercolor. Lots of tricks and techniques will be demonstrated. Other woodland specimens will be on hand to work from such as moss, tree bark, stones, and more. Honor the beauty of the natural world through the artistic process.
Adult class, limit 16 people
Location: Pony Shed Artist-in-Residence Studio
The following workshops take place at ArtisTree Community Art Center:
Woodland Fairy Homes Family Workshop
Saturday, June 22nd, 10am-12pm
Bring your imagination and venture into the woods and fields with your family to create an enchanting miniature village of fairy houses.
All ages.
Watercolor Nature Studies Family Workshop
Saturday, July 13rd, 10am-12pm
Bring the family for a fun morning of painting with nature!
All ages.
Dwyer will also demonstrate her art and facilitate creative activities at several park events throughout the season, including at the Sixties Cocktail Hour on Friday, June 28 5:30pm-7pm; Summer Celebration on Saturday, August 24 10am-4pm, and Forest Festival Weekend, September 21 & 22 10am-4pm.
For information on open studio hours, see:
www.nps.gov/mabi/learn/artist-in-residence.htm
To register for workshops, visit
www.artistreevt.org
.  
Last updated: June 10, 2019