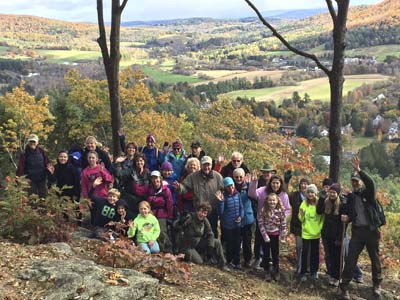 News Release Date:
October 2, 2017
Contact: Stephanie Kyriazis
With a nip in the morning air and a few leaves still clinging to the trees, it's the perfect time of year to stretch your legs and hit the trail. The sixth annual Peak to Peak event invites locals and visitors alike to explore the walking paths of Woodstock, VT on Saturday, October 14, from 10am until 2:30pm.
The event takes place on the Woodstock Village Green, where participants can learn about local recreation and conservation organizations, play family-friendly games, and join expert guides for specialized hikes up Mt. Peg or Mt. Tom. Walkers who make it to the top of the peaks can enjoy apple cider, cheese, crackers and art activities to reward their efforts. The event is free and open to the public.
"This event is a great way to get out and celebrate autumn," says Chief of Interpretation, Stephanie Kyriazis, "with epic views of Woodstock's forested hills, seasonal snacks at the peaks, and the opportunity to learn about local history, pursue wellness through recreation, or just get out and enjoy the trails with our diverse and knowledgeable hike leaders from local organizations."
Explore the trails on your own, or meet at the Green for one of these scheduled hikes:
         Peak to Peak Challenge
Summit both Mt. Tom and Mt. Peg, enjoying snacks at both Peaks, or bring a lunch to fuel your journey.
Departs 10 a.m. HEARTY: 5 miles roundtrip
Mt. Peg History Hike
Explore the landscape history of Mt. Peg with a local historian, with special focus on the golf course that used to occupy its slopes.
Departs 10 a.m. EASY: 1.5 miles roundtrip
Yoga Hike
A moving meditation along the gentle slopes of Mt. Peg. All levels welcome.
Departs 10:30 a.m. EASY: 2 miles roundtrip
Mt. Tom Hike
Hike the historic Faulkner Trail to South Peak for a panoramic view.
Departs 10:30 a.m. and 1:00 p.m. MODERATE: 3.5 miles roundtrip
Mt Peg Hike
Join a Sierra Club Hike leader on this short jaunt.
Departs 1:00 p.m. EASY 2 miles round trip
          Valley Quest: Adventures for Young Hikers
Solve riddles using clues in the local landscape as you explore paths around Woodstock on these family-friendly hikes.
Departs 10:30 a.m. and 1 p.m. EASY: distance varies
Peak to Peak is made possible with the support of many partners, including Billings Park Commission, Green Mountain Club, Holt Survey Associates, Inner Lift Yoga, Sustainable Woodstock, Upper Valley Sierra Club and Upper Valley Trails Alliance and Vital Communities.
The Boots to Boats initiative, supported by a grant from the National Park Foundation, encourages participants to recreate on their public lands and waters in and between Vermont and New Hampshire's only national park sites, via the Appalachian National Scenic Trail and the Connecticut River National Blueway. From yoga hikes to public paddle days, guided events have been offered throughout the summer and into fall. For more information, or to plan your own Boots to Boats adventure in any season, check out https://go.nps.gov/bootstoboats.