Collections
Overview of Museum Collections
at Marsh-Billings-Rockefeller National Historical Park

Marsh-Billings-Rockefeller National Historical Park is the first national park to tell the story of conservation history and the evolving nature of land stewardship in America. The three families associated with the site embody the early ideals of conservation stewardship in the United States. The museum collection consists primarily of nineteenth and twentieth century art and artifacts belonging to the Billings and Rockefeller families, and a few items associated with George Perkins Marsh. It is a diverse collection that includes household furnishings, fine arts, decorative arts and family mementos. Of particular importance are the landscape paintings by artists connected to the Hudson River School, because of the School's association with the American conservation movement. To learn more about the art collection at Marsh-Billings-Rockefeller NHP, visit our virtual museum exhibit.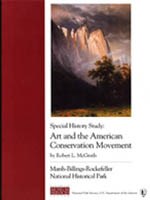 Robert L. McGrath's book, Art and the American Conservation Movement examines the art collection of Marsh-Billings-Rockefeller NHP, placing the families' collection and personal connections to the art in context with the influence of art and artists on the conservation movement.

Learn more about the park's museum collection. Or browse the collection on the NPS Web Museum Catalog. (Please note that this link brings you to the web museum listing page of parks that have online collections. On this page, search for Marsh-Billings-Rockefeller NHP to get to the museum page for this park.)
Last updated: August 3, 2016