Albert Bierstadt Paintings at Marsh-Billings-Rockefeller NHP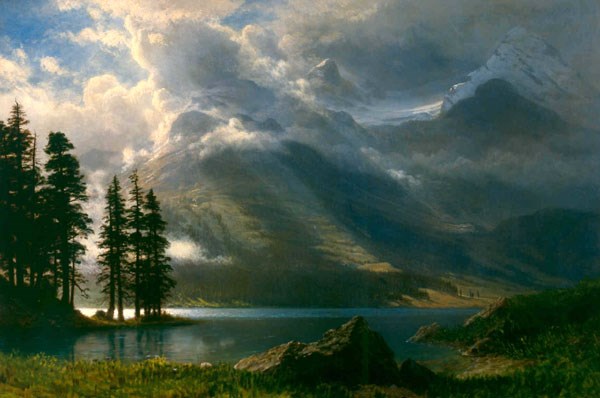 In one painting, we have a great launching point to talk about the story and themes of Marsh-Billings-Rockefeller National Historical Park. It is a grand, dramatic landscape by Albert Bierstadt completed between 1865-1869.
In the years just after the Civil War, most of the US population lived east of the Mississippi River. Tales had been told of the great expanses of western lands, but few had seen them. Bierstadt's epic paintings helped make those tales reality, and in doing so helped inspire settlers and tourists to explore the vastness of their country. Landscapes like this one also engendered a new reverence for the land - an American landscape - and helped change our

notions of land use, injecting ideas like preservation, conservation, and stewardship into the idea of manifest destiny.

Experiencing majestic landscapes, even if just in a painting, helped to shift our expansion model from one of exploitation to more responsible management of natural resources. If these places existed, unsullied by human touch, could they not also be irreparably altered by humans?
George Perkins Marsh introduced this idea to the world in his seminal book Man and Nature in 1864, but artists like Thomas Cole, the mentor for the Hudson River School painters, understood the relationship of humans and the environment many years earlier. Paintings like this one were instrumental in the popular preservationacts that followed: the Yosemite Land Grant in 1864, Yellowstone Protection Actof 1872, Forrest Reserve Act of 1891, and of course the National Park ServiceOrganic Act of 1916, which we are celebrating the centennial of this year.
What's in a name? In this case, it's all in the name - Scenery in the Grand Tetons. Perhaps the oddest thing to report about this painting is that is almost certainly not a real "place." There's no record of Bierstadt traveling to theTetons. In 1881, years after he completed this painting, he traveled toYellowstone National Park, which is very near the Tetons. One can hope he glimpsed the Tetons from afar, but he certainly was not there to paint the scene. Although probably not the Tetons, it is very similar to some of his workin the California high country. Scenery in the Grand Tetons is most likely a conjectural scene from his extensive travels in the Sierra. Unlike many artists, Bierstadt was very successful in his lifetime and knew how to sell his art...and a title that captured the imagination about the wonders found in the West was a great sales pitch.
Bierstadt arrived out west partly at the largess of the Union Pacific Railroad in 1863, and promptlymet a future railroad president in Frederick Billings. Billings was already a successful land attorney in San Francisco, having practiced law there since the early days of the gold rush with his firm Halleck, Peachy, and Billings, and later filled several roles including president with the Northern PacificRailway Company. The Northern Pacific completed its transcontinental connectionin 1883 and both Frederick and Julia Billings were there to strike the ceremonial last spike. The Northern Pacific would make accessible like never before areas like the Grand Tetons and Yellowstone National Park.

Note: This iconic Hudson River School of Art landscape painting, which is linked to the Conservation Movement that supported interest in creating the National Park system is the 12th of 16 Forever Stamp images commemorating the National Park Service's 100th anniversary. The park and US Post Office held a dedication ceremony for the stamp on June 4, 2016. Read more about the stamp.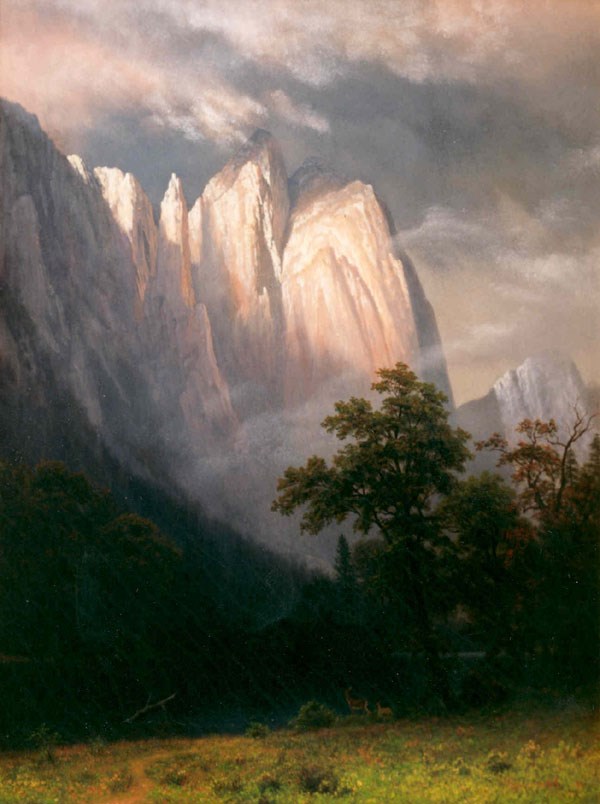 An odd coincidence worth noting may have helped bring Bierstadt to California. In 1862, Bierstadt saw an exhibition of Carleton Watkins mammoth photographs of Yosemite at Goupil's Gallery in New York City. Watkins photographed Yosemite while on an expedition with Trenor Park, another partner in the firm. Park along with Halleck, Peachy and Billings and sent several sets of prints back East. Some went to New York, and some found their way to Congress to lobby for the protection of Yosemite. Several prints of that first set survive, including one of Half Dome here. Although it is impossible to say which prints where exhibited where 150 years later, it is certain Halleck, Peachy and Billings fronted the considerable expense of reproducing and shipping the influential prints to the East coast, enticing Bierstadt to head west with his brushes and easel.

Billings later purchased two other paintings directly from Bierstadt - a view of Cathedral Rock and Cliff House. After their wedding in 1862, Frederick and Julia Billings returned to California and stayed at Cliff House shortly after its grand opening in 1863. (The ruins of Cliff House are now part of Golden Gate National Recreation Area).
While telling a national story (a painting of one national park, hanging inside of another national park), it also tells another very personal story. Laurance Rockefeller purchased this painting no doubt, as a reminder of the JY Ranch, his family's ranch at the base of the Tetons, and hung it on the wall in his study. Laurance with his father, John D. Rockefeller, Jr. were largely responsible for purchasing the land that became Grand Teton National Park. Each summer after spending six weeks here in Woodstock, Laurance and Mary Rockefeller traveled to the ranch to celebrate their anniversary. Laurance later gave the JY Ranch to the NPS too.The painting also hung here in Woodstock because it fit well with the larger Hudson River School collection Mary Rockefeller's grandparents, Frederick and Julia Billings, had begun two generations earlier. That is to say, it did not irreparably alter the character of the place. It stands as a very simplified, but important understanding in historic preservation and cultural resource management that is analogous to the model of natural resource stewardship that Marsh, Billings, and Bierstadt so well understood.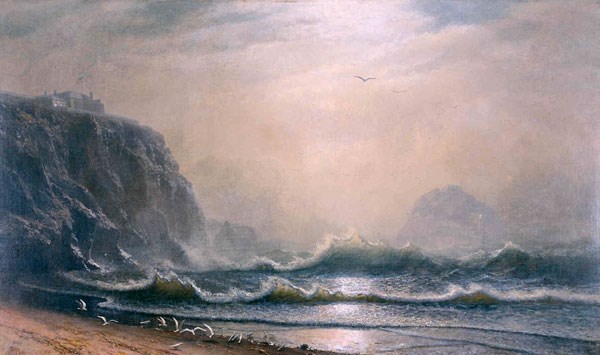 Like most successful artistic expression, Bierstadt's Tetons tells more than one story; there is the national story that relates to the creation of national parks and links several parks together, and there is the personal story of families in Vermont, making wise ecologically sound improvement to the their place in the land...and collecting some great art along the way.
Last updated: July 5, 2017