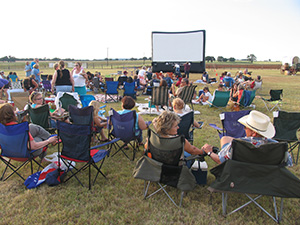 News Release Date:
July 8, 2014
Contact: Dave Schafer, (830) 868-7128, ext. 235
Lyndon B. Johnson National Historical Park continues its popular summer movie series on Saturday, July 12, with the showing of the 1964 movie Viva Las Vegas, starring Elvis Presley at the LBJ Ranch near Stonewall. The film starts at dusk and will be presented on a large outdoor screen. Access to the ranch begins at 7:00 pm. A movie trivia contest will precede the start of the film. Prizes will be given out to lucky contest winners.
Guests are encouraged to bring lawn chairs, blankets, and refreshments. The program is offered free of charge. Entry to the LBJ Ranch is conveniently located off Highway 290 onto Ranch Road 1; follow the signs to enter the ranch on Park Road 49 near the one-room Junction School. Parking is available on the airstrip taxiway adjacent to the movie site.
The Johnsons enjoyed inviting guests to their ranch to show some of the biggest blockbusters of the 1960s. For modern visitors, the "Movies Under the Stars" series is a great way to enjoy timeless classics while experiencing a fun-filled night on the LBJ Ranch—just like the friends of the Johnsons experienced in the 1960s and 1970s.   
This year marks the 50th anniversary of Viva Las Vegas. Starring Elvis Presley and Ann-Margaret, this musical film featured ten song-and-dance scenes. In the film, Presley portrayed a race car driver who was attempting to both win a race and win the heart of a swimming instructor portrayed by Ann-Margaret. The on-screen chemistry between Elvis Presley and Ann-Margaret made Viva Las Vegas one of Presley's most popular films.
The "Movies Under the Stars" series will conclude on Saturday, September 13 with A Hard Day's Night, starring The Beatles.
Lyndon B. Johnson National Historical Park is open seven days a week from 9:00 am to 5:00 pm. For more information on this and other park activities call 830-868-7128, ext. 231 or 244, or visit www.nps.gov/lyjo and www.facebook.com/pages/Lyndon-B-Johnson-National-Historical-Park.