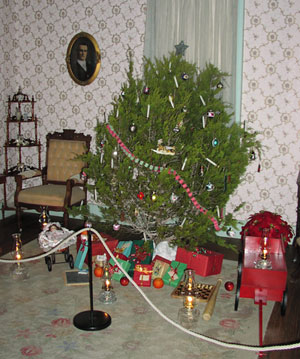 News Release Date:
November 16, 2007
Contact: Sherry Justus, 830 868-7128, ext. 245
Johnson City, Texas -- Lyndon B. Johnson National Historical Park invites everyone to experience "Christmas at the LBJ Boyhood Home" on November 24, December 1, December 8 and December 15. National park rangers will provide an open house of this historic home, all decked out for a Christmas celebration in the 1920s from 6:00 to 9:00 p.m. each evening.
On these four Saturdays, the LBJ Boyhood Home will be lamp lit, giving visitors an opportunity to experience family life at the Johnsons' house as it was more than eighty years ago. National park rangers and volunteers team up to portray a 1920s Christmas, complete with Christmas caroling, a cedar tree in the parlor adorned with handmade ornaments and a toy display beneath, and authentic decorations and seasonal goodies throughout the home.
As a special treat on December 8 only, visitors can board the shuttle bus at the back gate for a five-minute ride to the Johnson Settlement, where they are guided by lantern light even further back in time to a late 1860s Christmas in frontier Texas. The Exhibit Center will be open for visitors wanting to immerse themselves in what life was like on those cattle drives of long ago, or learn about Lyndon Johnson's ancestors and what their lives were like on the settlement lands and about other families who came after them and farmed this harsh land. Further up the path is the original Sam Ealy Johnson cabin, where Lyndon Johnson's grandparents first homesteaded in 1869. Here the lighting is provided by candles, oil lamps, and two fireplaces. The decorations here are much simpler, but there is also a tree and some toys, as well as seasonal music. Just as strangers were welcomed in the past, visitors are offered refreshments before they strike out again on the trail home.
The Western National Parks Association bookstore in the park Visitor Center at 100 Ladybird Lane will also be open each Saturday evening. The bookstore has a variety of books for all ages and other products from children's toys to notecards and calendars. Proceeds from the sales in the bookstore directly support education and research programs in the park.