Indianapolis, Indiana - Inaugural Journey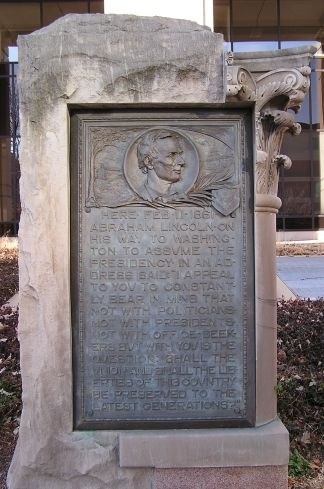 Indianapolis, Indiana
February 11-12, 1861
The Inaugural train arrived at the Indianapolis station, at Missouri and Washington Streets, at about 5:00 p.m. where Lincoln was greeted by Governor Oliver P. Morton and a 34 gun salute. Lincoln commented that he wouldn't say much but offered a word of encouragement to the people, appealing to them for help in saving the Union.
While I do not expect, upon this occasion, or on any occasion, till after I get to Washington, to attempt any lengthy speech, I will only say that to the salvation of this Union there needs but one single thing---the hearts of a people like yours. When the people rise in masses in behalf of the Union and the liberties of their country, truly may it be said, ``The gates of hell shall not prevail against them.''
I, as already intimated, am but an accidental instrument, temporary, and to serve but for a limited time, but I appeal to you again to constantly bear in mind that with you, and not with politicians, not with Presidents, not with office-seekers, but with you, is the question, ``Shall the Union and shall the liberties of this country be preserved to the latest generation?''
Following those remarks, Lincoln joined a procession, said to have numbered 20,000 to the Bates House, at the northwest corner of Illinois and Washington Streets, where he spent the night. At the Bates House Lincoln spoke from the balcony on what was then a hypothetical situation, but would soon become a real decision for him, defending Federal property and other interests in the south. The words ``coercion'' and ``invasion'' are in great use about these days. Suppose we were simply to try if we can, and ascertain what, is the meaning of these words. But if the Government, for instance, but simply insists upon holding its own forts, or retaking those forts which belong to it, or the enforcement of the laws of the United States in the collection of duties upon foreign importations, or even the withdrawal of the mails from those portions of the country where the mails themselves are habitually violated; would any or all of these things be coercion?
On February 12, Lincoln's fifty-second birthday, Lincoln had breakfast at the Governor's mansion at the northwest corner of Illinois and Market Streets, after which Lincoln and Governor Morton walked over to the statehouse at the northwest corner of Washington and Capitol where Lincoln met with members of the legislature. At 11:00 a.m. the entire Lincoln family boarded the train, joined by members of the committee from Ohio and Kentucky and continued their journey.
---
Local Community Contact: Indiana State Museum, 650 West Washington St., Indianapolis, Indiana
Phone: 317-232-1637
E-mail: museumcommunication@indianamuseum.org
Web page: www.indianamuseum.org


Last updated: March 5, 2017