Cincinnati, Ohio - Inaugural Journey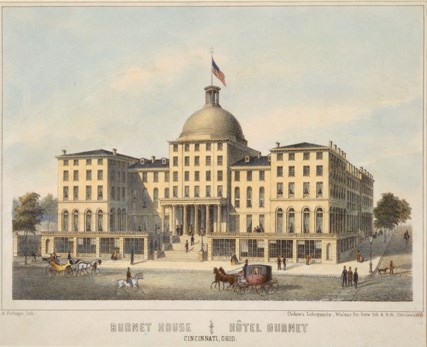 Cincinnati, Ohio
February 12-13, 1861
Lincoln's train arrived in Cincinnati a little after 3:00 p.m. Lincoln was welcomed by Mayor Richard M. Bishop and they joined what was a two hour procession by carriage, which included an escort by the Washington Dragoon regiment, to the Burnet House at the northwest corner of Third and Vine. At the Burnet House Lincoln addressed the crowd with a call for unity and an optimistic message about the "National difficulties."
I could not look upon this vast assemblage without being made aware that all parties were united in this reception. This is as it should be. It is as it should have been if Senator Douglas had been elected. It is as it should have been if Mr. Bell had been elected---as it should have been if Mr. Breckinridge had been elected---as it should ever be when any citizen of the United States is constitutionally elected President of the United States.
Lincoln also took advantage of the location of Cincinnati to address the citizens in the neighboring slave state of Kentucky. He offered a hope for peace with a warning that he would not be to blame if peace did not hold.
"We mean to leave you alone, and in no way to interfere with your institution; to abide by all and every compromise of the constitution, . . . . We mean to remember that you are as good as we; that there is no difference between us, other than the difference of circumstances. We mean to recognize, and bear in mind always, that you have as good hearts in your bosoms as other people, or as we claim to have, and treat you accordingly.
Fellow citizens of Kentucky---friends---brethren, may I call you---in my new position, I see no occasion, and feel no inclination, to retract a word of this. If it shall not be made good, be assured, the fault shall not be mine."
At 8:00 p.m. Lincoln returned to the Burnet House balcony to address the German Industrial Association where he spoke of immigration and opportunity.
In regard to the Germans and foreigners, I esteem them no better than other people, nor any worse. It is not my nature, when I see a people borne down by the weight of their shackles---the oppression of tyranny---to make their life more bitter by heaping upon them greater burdens; but rather would I do all in my power to raise the yoke, than to add anything that would tend to crush them. Inasmuch as our country is extensive and new, and the countries of Europe are densely populated, if there are any abroad who desire to make this the land of their adoption, it is not in my heart to throw aught in their way, to prevent them from coming to the United States.
The following morning, February 13, Lincoln and party were escorted by a committee of the Ohio legislature from the Burnet House. The procession of about eight carriages arrived at the Little Miami Railroad station at 9:00 a.m. for their journey to Columbus.
Local Community Contact: William Howard Taft National Historic Site
Phone: 513-684-3262
Web page: www.nps.gov/wiho
Last updated: March 5, 2017