Springfield, Illinois - Inaugural Journey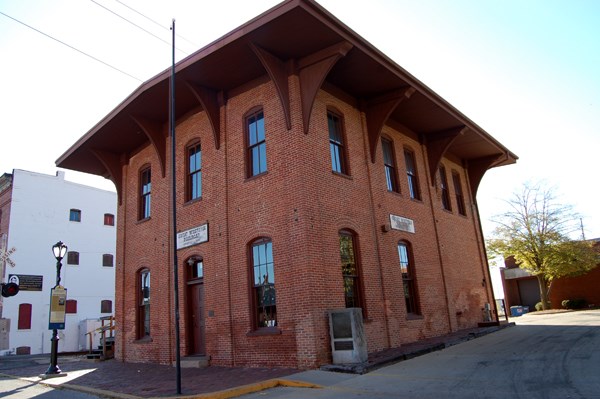 Springfield, Illinois
February 11, 1861
On the morning of February 11, a carriage arrived at the Chenery House to take Lincoln to the train station. Lincoln had already tied his luggage together and labeled the attached card A. Lincoln, Executive Mansion, Washington, D.C. and was assisted by Lincoln's African-American neighbor Jameson Jenkins. The initial plan for the Lincoln family called for Lincoln and Robert to leave ahead of Mary, Willie and Tad, who would join the inaugural train somewhere on the east coast. This plan was altered however, due in part to Mary's objections, and Mary and boys caught up to Lincoln later in the day in Indianapolis. Lincoln and Robert were accompanied on the initial leg of the journey by several officials and a variety of reporters.
A crowd said to have numbered around 1,000 had gathered at the Great Western Railroad Station to see Lincoln off. Lincoln went through the gathering of friends and neighbors, shaking hands with as many as he could, and then waited inside the station for his departure. Just before 8:00 o'clock, Lincoln climbed the train and, turned and in addressing the gathering, reflected on his years in Springfield; the death of their son Eddie in 1850; and, the task awaiting him in Washington.
My friends---No one, not in my situation, can appreciate my feeling of sadness at this parting. To this place, and the kindness of these people, I owe every thing. Here I have lived a quarter of a century, and have passed from a young to an old man. Here my children have been born, and one is buried. I now leave, not knowing when, or whether ever, I may return, with a task before me greater than that which rested upon Washington. Without the assistance of that Divine Being, who ever attended him, I cannot succeed. With that assistance I cannot fail. Trusting in Him, who can go with me, and remain with you and be every where for good, let us confidently hope that all will yet be well. To His care commending you, as I hope in your prayers you will commend me, I bid you an affectionate farewell.
---
Locaiton: Great Western Depot
Tenth and Monroe Streets, Springfield, Illinois
For Further Information Contact: Lincoln Home National Historic Site
Phone: 217-391-3221
E-mail: e-mail us
Web page: www.nps.gov/liho
Last updated: March 5, 2017