Hiking Cold Boiling and Crumbaugh Lakes Trails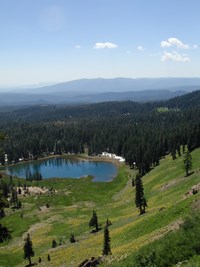 Start: Kings Creek Picnic Area
Terrain: Mostly flat to Crumbaugh Lake, then downhill 800 feet to Mill Creek Falls, then uphill 250 feet to campground; uphill to Bumpass Hell Basin
Trailhead Elevation: 7,400 feet
Distance:
| | |
| --- | --- |
| Destination | Distance in Miles (one-way) |
| Cold Boiling Lake | 0.8 |
| Crumbaugh Lake | 1.3 |
| Bumpass Hell Basin | 2.6 |
| Mill Creek Falls | 3.0 |
| Kohm Yah-mah-nee Visitor Center | 4.6 |
Trail to Cold Boiling and Crumbaugh Lakes
The trail is fairly level to Cold Boiling Lake, and then descends to Crumbaugh Lake. From Crumbaugh Lake the trail passes through several meadows along the base of Mt. Conard. The trail then descends a steep grade to Mill Creek Falls. From Mill Creek Falls, the trail follows a steady incline to the Kohm Yah-mah-nee Visitor Center. You can arrange a shuttle at the visitor center for an easy, half-day hike. The trail provides excellent opportunities to spot birds, wildflowers, and deer. The meadow along the shore of Crumbaugh Lake has a variety of wildflowers and the meadows past Crumbaugh Lake are ideal for wildlife viewing.
Cold Boiling Lake is a "dying" hydrothermal area that continues to emit small amounts of gas bubbles at some points near the shore.
Cold Boiling Lake to Bumpass Hell Basin
From Cold Boiling lake, a 1.9 mile one-way trail segment climbs steadily (750 feet) to the eastern end of Bumpass Hell Basin. The entire route from Kings Creek Picnic Area Trailhead to Bumpass Hell Basin is 5.2 miles round-trip. This narrow route passes along a steep hillside and is not recommended for stock animals.


Last updated: June 16, 2020