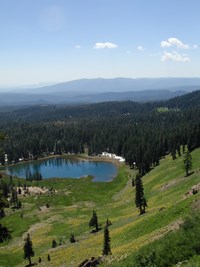 Start: Kings Creek Picnic Area
Distance: Cold Boiling Lake, 0.8 mile; Crumbaugh Lake, 1.3; Mill Creek Falls, 3.0; Southwest Campground 4.6; all distances one way.
Time: Cold Boiling Lake, 3/4 hour; Crumbaugh Lake 1 1/2 hours; Southwest Campground, 4 hours; all times are one way.
Terrain: mostly flat to Crumbaugh Lake, then downhill 800 feet to Mill Creek Falls, then uphill 250 feet to campground
Elevation: 7400 feet start
Alternate Route: An alternate route would be to head towards Bumpass Hell from Cold Boiling Lake and arrange for transportation at the Bumpass Hell parking lot. This trip is 2.5 miles one way with a steady 750 foot incline. Allow 3 hours including a 30 minute stop at the Bumpass Hell boardwalk.