Hiking Cold Boiling and Crumbaugh Lakes Trails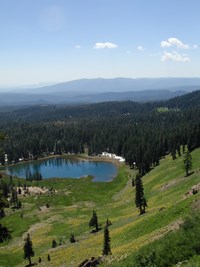 Start: Kings Creek Picnic Area
Distance: Cold Boiling Lake, 0.8 mile; Crumbaugh Lake, 1.3; Bumpass Hell Basin 2.6; Mill Creek Falls, 3.0; Southwest Campground 4.6. All distances one way.
Time: Cold Boiling Lake, 3/4 hour; Crumbaugh Lake 1 1/2 hours; Southwest Campground, 4 hours; all times are one way.
Terrain: Mostly flat to Crumbaugh Lake, then downhill 800 feet to Mill Creek Falls, then uphill 250 feet to campground; uphill to Bumpass Hell Basin
Elevation: 7400 feet start
Limited Parking in 2019
Kings Creek Picnic Area and Trailhead parking area is limited and will likely fill up by the mid-morning due to the temporary Bumpass Hell Trail closure. Additional parking may be available in pull-outs along the park highway. Please note that vehicles parked inside the white fog line, on non-durable surfaces (e.g. grasses, shrubbery), or blocking two-way traffic may be ticketed or towed (to allow for emergency access).
Trail Description
The trail is fairly level to Cold Boiling Lake, and then descends to Crumbaugh Lake. The trail becomes flat and passes through several meadows at the base of Mt. Conard. The trail then descends a steep grade to Mill Creek Falls. From Mill Creek Falls the trail follows a steady incline to the Southwest Campground. A one way trip to the campground, arranging for transportation at the lower end, makes an ideal, easy, half-day hike.
This little-traveled area is excellent for birds, wildflowers, and deer. The meadow along the shore of Crumbaugh Lake has a variety of wildflowers and the meadows past Crumbaugh Lake are ideal for wildlife viewing.
Cold Boiling Lake is so named because gas bubbles are continually rising at some points near the shore. Learn more about hydrothermal areas in the park in a U.S. Geological Survey publication, "Hot Water" in Lassen Volcanic Naitonal Park.
Cold Boiling Lake to Bumpass Hell Basin
From Cold Boiling lake, a 1.9 mile one-way trail segment climbs steadily (750 feet) to the eastern end of Bumpass Hell Basin. The entire route from Kings Creek Picnic Area Trailhead to Bumpass Hell Basin is 5.2 miles round-trip. This narrow route passes along a steep hillside and is not recommended for stock animals.

A temporary closure is in effect at the Bumpass Creek footbridge with access to the newly reconstructed boardwalk (see map below). Note that during the closure, it is not possible to "through hike" between Bumpass Hell parking area and Kings Creek Picnic Area.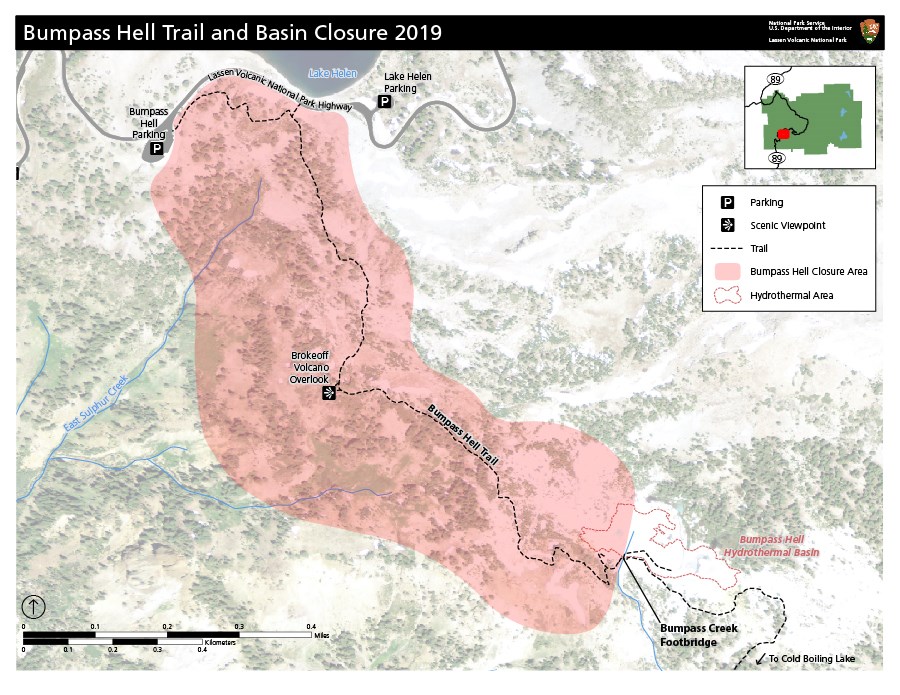 Last updated: April 9, 2019