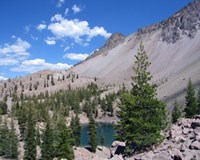 Air Quality
Most people who visit national parks expect clean air and clear views. However Lassen Volcanic National Park lies downwind of the populated Sacramento Valley and areas of agriculture and manufacturing. Pollutants emitted from these sources can harm the park's natural and scenic resources such as vegetation, surface waters, and visibility. Read more...
Climate Change
Lassen provides water for five California watersheds and habitat for hundreds of wildlife species. These resources are faced with changes influenced by climate change. Lassen and the National Park Service are taking action to both measure and mitigate climate change affects. Read more...
Phenology
Phenology is the study of the timing of life cycle events in organisms. Lassen Volcanic is one of seven pilot parks in California helping to establish park phenological monitoring projects. Lassen's phenology program relies heavily on scientific observations provided by citizen scientists like you. Read more...