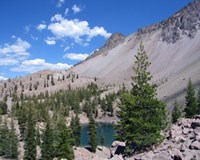 Clean air helps people breathe easy and see far. It keeps our parks and planet healthy too! Clean, clear air can help you breath easy, see far, and enjoy nature. Lassen Volcanic has monitored air quality values such as pollution and visibility since the 1980s and works together with air regulatory agencies and partners to improve visibility.
Lassen provides water for five California watersheds and habitat for hundreds of wildlife species. These resources are faced with changes influenced by climate change. Lassen and the National Park Service are taking action to both measure and mitigate climate change affects.
Phenology
Phenology is the study of the timing of life cycle events in organisms. Lassen Volcanic is one of seven pilot parks in California helping to establish park phenological monitoring projects. Lassen's phenology program relies heavily on scientific observations provided by citizen scientists like you.