Volcano Club Card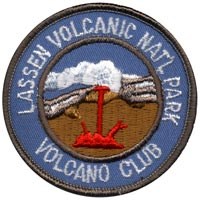 Lassen Volcano Club offers visitors of all ages an opportunity to learn more about the volcanoes that have and continue to define Lassen Volcanic National Park and the world as a whole. You may complete the activity card during your visit to the park or you may complete the activities online and mail in your results. Individuals that complete the card are then welcome to purchase a special Volcano Club patch from the Lassen Association.
Instructions

Pick-up the Volcano Club Card at the Kohm Yah-mah-nee Visitor Center or Loomis Museum or email lavo_information@nps.gov for a copy.
Complete at least seven activities and submit your findings to a ranger. You may also mail your findings to the address below or email your answers to lavo_information@nps.gov with the subject "Attn: Volcano Club".

Kohm Yah-mah-nee Visitor Center
Volcano Club
PO Box 100
Mineral, CA 96063
To receive a Volcano Club patch, please include a check for $2.42 made out to: Lassen Association and address where you would like it to mailed it to.
For More Information
To complete your seven activities, some places you might want to look for information are:
Your Public Library
Your School
Write to a National Park Ranger to request a park newspaper or a student packet.
Last updated: February 9, 2018