News Release
Lake Mead National Recreation Area Receives Children's Lifejacket Donations from the Assistance League of Las Vegas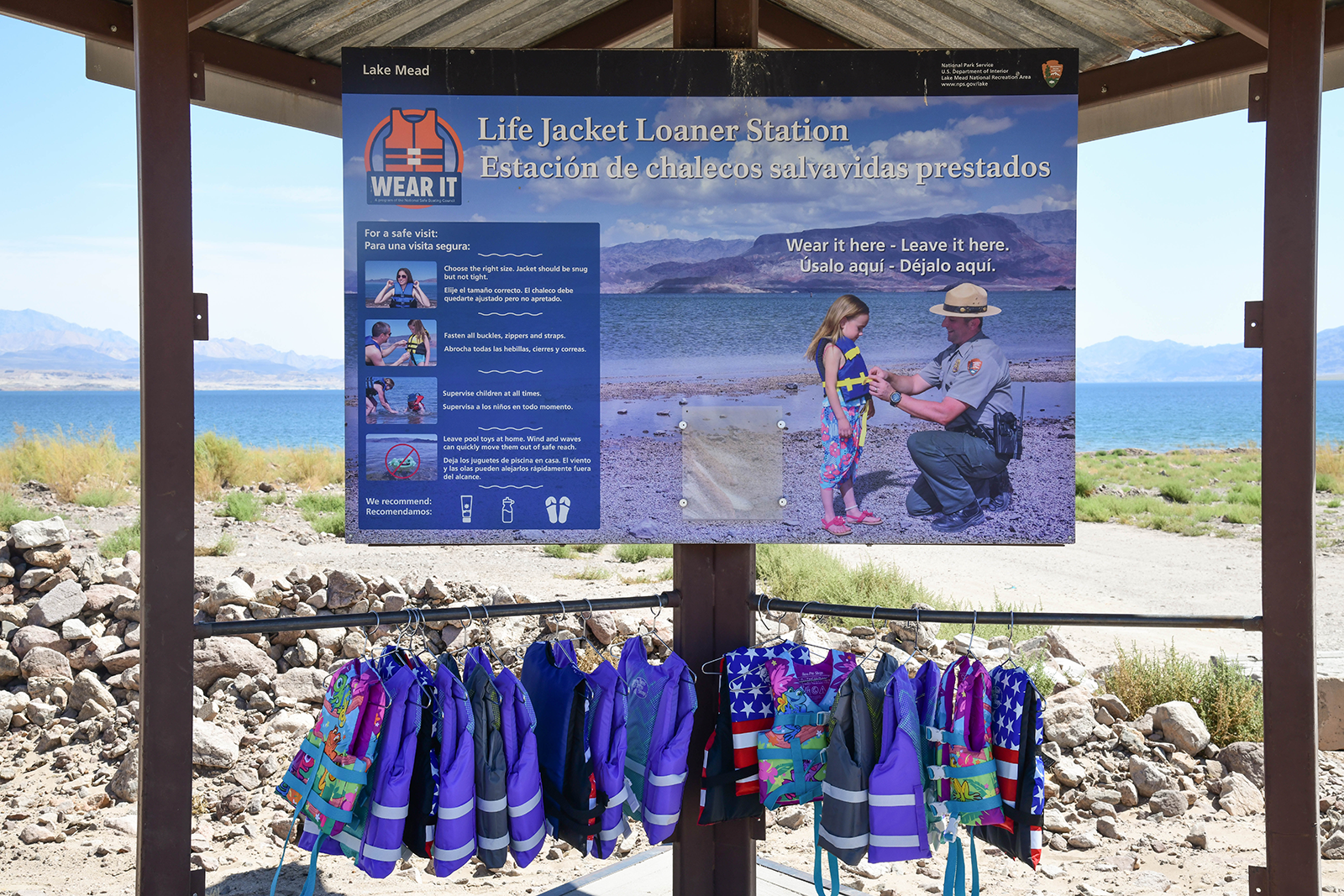 News Release Date:
May 31, 2023 BOULDER CITY, Nev. – Lake Mead National Recreation Area just received a boost in supporting safety for visitors. The Assistance League of Las Vegas, a non-profit organization that supports under-privileged youth across the Las Vegas Valley, donated 74 children's life jackets to help Lake Mead National Recreation Area re-stock lifejacket loaner stations around the park in preparation for summer.  
"Swimming in the waters here can be hazardous," said Matt Stark, a law enforcement ranger with Lake Mead NRA. "Life jackets are critical to protecting lives. That's why I am grateful to the Assistance League of Las Vegas for providing lifejackets to visitors who swim at the park's beaches."
Lifejacket loaner stations are located at popular beaches around the park to encourage families to protect their children by having them always wear a lifejacket when swimming along the shorelines. They can borrow a jacket for the day and then return it to the station to allow another family to recreate safely. Lifejacket loaner station locations include Boulder Beach, Special Events Beach, Canoe/Kayak Beach, Cottonwood Cove, Princess Cove, North Arizona Telephone Cove, and Willow Beach.
Drowning is the number one cause of death in national parks and can often be prevented by wearing a lifejacket. Pool toys are not a substitute for life jackets and are prohibited at Lake Mead National Recreation Area. Visitors can underestimate the dangers of an open water environment where wind can rapidly generate waves or carry people far from shore.
Some additional reminders: Life jackets must be worn when on a jet ski. Children ages 12 and younger must wear a life jacket on a vessel. Due to the extremely cold waters between Hoover Dam and mile 43 on Lake Mohave, life jackets must be worn on all paddle craft. In other areas of the park, lifejackets must be present on paddle craft and are strongly encouraged to be worn at all times.  
- NPS -
Lake Mead National Recreation Area, just minutes from Las Vegas, offers Joshua trees, slot canyons and night skies illuminated by the Milky Way. The park's rocks are as red as fire and the mountains are purple majesties. Lake Mead is the country's first and largest national recreation area and the ninth most visited national park in the country. Follow us at
www.nps.gov/lake
or on
Facebook
,
Twitter
and
Instagram
.
Last updated: May 31, 2023