Jobs
A wide variety of exciting and challenging employment opportunities await you at Lake Clark National Park & Preserve. While we are a small staff, we do fill positions in many fields, including interpretation, maintenance, administration, natural and cultural resource management, and law enforcement. Some jobs are office-oriented, others focus on working with the public, and some involve working outdoors. Each job performs a vital function - that of providing visitors an opportunity to enjoy a meaningful experience, while working hard to preserve natural and cultural resources for future generations.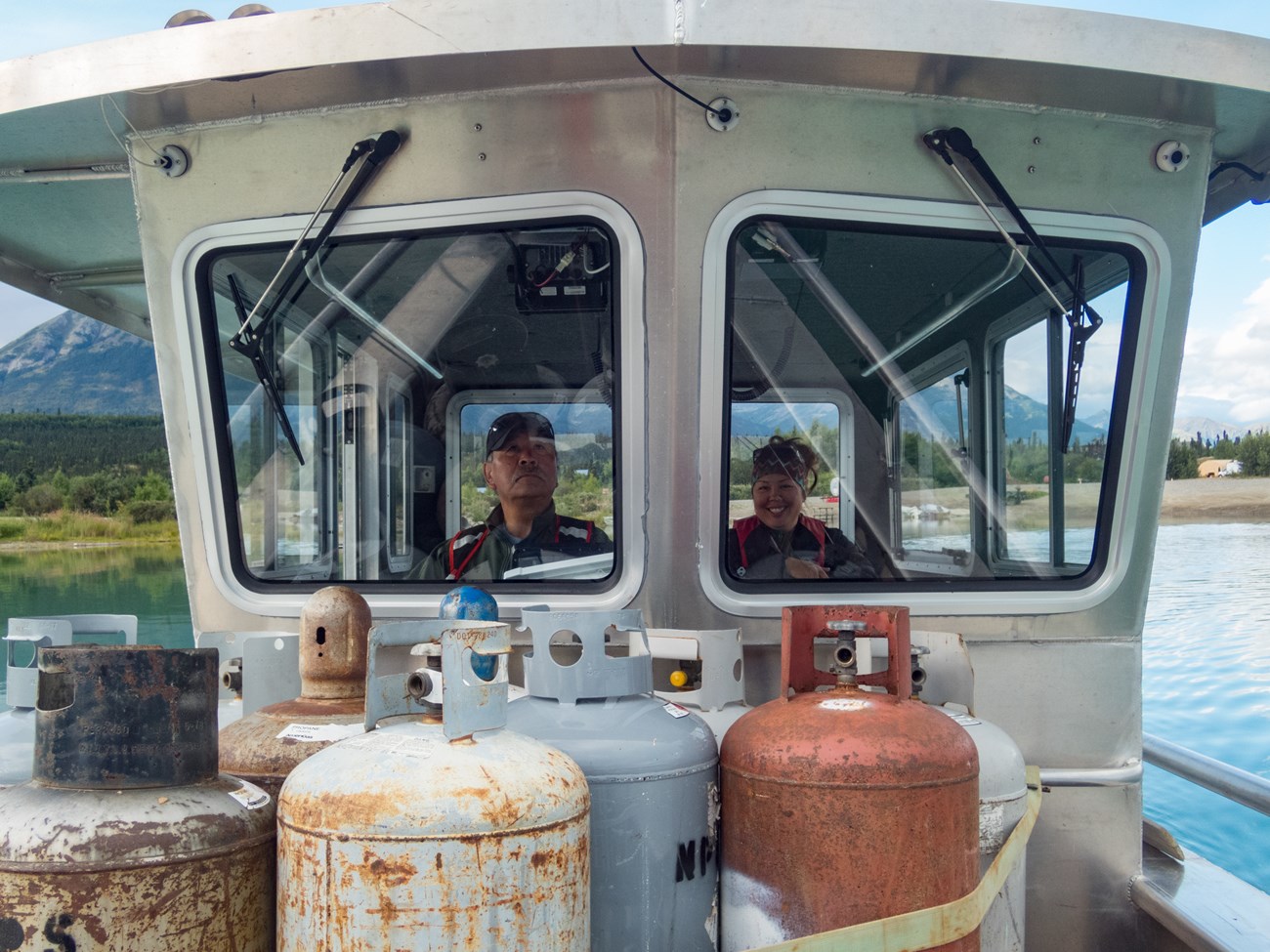 Current Job Opportunities
Logistics Management Specialist
Open Period:
08/01/2023 - 08/10/2023

Salary:
$30.85 to $40.10 per hour

Position Info:
Full-time - Permanent, Career Seasonal

Series and Grade:
GS-0346-09

Location(s):
Port Alsworth, AK

Who May Apply:
Local Residents
Appointment Information: This position is a career-seasonal work schedule that provide for at least 26 weeks of full-time work, and up to 26 weeks of non-duty/non-pay time, per year. The work season is expected to be approximately mid - January to early – November. It is possible that work time can be extended depending on budget, workload, weather, or for other reasons. When your services are not required, you will be placed in non-duty/non-pay status. You will have the option to continue your health coverage while in non-pay.

Duties: You will work as a GS-09 Logistics Management Specialist in the Port Alsworth Field Headquarters area. The duties for this position include Aviation/Motorboat Logistical Support and Field Station/Backcountry Administrative Support. Specific duties include:
Coordinates the delivery of supplies, equipment, and staff in support of backcountry operations that require helicopter, fixed-wing aircraft, or small motorboats.
Ensures that proper safety equipment is available and provides training on use for aviation and boating operations (life jackets/vests, aviation safety jackets, etc).
Serves as back-up to assist with training on various communications devices.
Communicates regularly with the Alaska Rescue Communications Dispatch Center on status of weather and staff that are stationed in remote areas.
Trained in and actively uses multiple forms of communication including satellite phone, radio, and in-Reach devices.
Operates light trucks, boats, and ATV/UTV's to transport materials to and from work sites. Serves as licensed boat captain for missions across and along Cook Inlet and within Lake Clark and its connected water bodies in support of the park's backcountry operations.
Serves as a licensed Motorboat Operator Certification Course instructor in support of up to 20 staff per year. Includes kayak and canoe instruction.
Serves as a trained helicopter manager when requested.
Serves as an Operational Leadership instructor.
Carries non-law enforcement shotgun for protection against large animals, including brown and black bear and moose
Serves as Office Manager at the park's field headquarters in Port Alsworth, AK
Prepares travel authorizations and vouchers using automated systems and software for travel and voucher preparation.
Serves as the formal Property Receiver for the park's field Headquarters. Manages the park's key system and sign-outs, and NPS uniform badge distribution.
Serves as Housing Tenant Assistant (in support of the park's Housing Manager).
May serve as unit's IT point of contact, providing limited technical support to end users or serving as liaison to IT specialists in regional or other offices.
Serves as a USAccess Activator and Enroller in support of the park's Homeland Security
Presidential Directive 12 (HSPD-12), Policy for a Common Identification Standard for Federal Employees and Contractors
Distributes mail and freight. Serves as authority on postage classification and rates, package requirements, and processing of mail.
For more information about the duties of this position, please contact Elizabeth Wilcox, Adminstrative Officer, at 907-290-0183 or elizabeth_wilcox@nps.gov.
Any U.S. citizen who has acquired special knowledge or expertise regarding the natural or cultural resources of Lake Clark National Park, by reason of having either lived or worked in or near the park. To be eligible, applicants must have lived or worked in or near the area long enough to encounter and become familiar with the full range of typical conditions that affect the work to be accomplished. Applicant resumes should reflect periods of time having lived or worked in or near the area of consideration.
Areas considered "near" Lake Clark National Park and Preserve are: Iliamna, Newhalen, Nondalton, Pedro Bay, Dillingham, Chignik Lake, Chignik Lagoon, Naknek, South Naknek, Port Heiden, Togiak, Levelock, Koliganek, Igiugig, Ekwok, Egegik, Aleknagik, Perryville, Pilot Point, Manokotak, New Stuyahok, Clarks Point, Kokonok, Twin Hills, Chignik, Portage Creek, Ugashik, Ekuk, Ivanhoff Bay, Lime Village, and Port Alsworth.
Position requirements will be determined by evaluating experience in your resume and the interview and selection process. All requirements must be met by the closing date of this job posting. Knowledge or expertise concerning the park or preserve's natural and/or cultural resources and the management thereof is required. Local knowledge of the resources and the typical conditions that affect the work to be accomplished will be applied in performance of the duties.
Following are five competencies identified for this position. These competencies are not required to be addressed in a separate document, but applicants are encouraged to include in their resumes information related to these competencies:
Ability to understand and coordinate logistics related to simple-to-complex backcountry operations and projects.
Knowledge of various forms of communication, including but not limited to radio (including marine), satellite phone, and in-Reach devices.
Ability to communicate effectively and provide excellent customer service (interpersonal skills).
Knowledge in use and care of various styles of motorboats and aircraft.
Knowledge of basic office automation hardware and software systems.
Broad understanding and knowledge of government purchasing, housing, travel management, and housing management.
Assistance may be obtained by e-mailing elizabeth_wilcox@nps.gov.

All applications must be postmarked or received via email by the closing date of this announcement.If your application package is postmarked on the closing date, it must be received in a sealed envelope at Lake Clark National Park no later than eight calendar days after the closing date.
If mailed via USPS, your application package must be addressed to:
Lake Clark National Park
ATTN: Susanne Green
240 W 5th Ave
Anchorage, AK 99501
You may email your application to: erin_haglund@nps.gov. Be sure to not include any photographs of yourself or any PII (Personally Identifiable Information), such as your Social Security Number, driver's license number, or passport number.
Hand-delivered applications cannot be accepted. DO NOT SEND your application via UPS or FedEx. We do not accept faxed applications or applications mailed in postage-paid government envelopes or through an internal government mail system.
REQUIRED FORMS to send via USPS or email:
Resume that provides detailed information about your work experience. Also include: the recruitment bulletin number of the position for which you are applying; and for each period of employment: the dates worked (for example, June 2009 through August 2010), the position title, and employer name and address.
DD-214 if claiming points of Veterans' Preference; if claiming 10 points of Veterans' Preference, also include the SF-15 and verification documents described on the back of the SF-15. The SF-15 may be obtained through the Internet at www.opm.gov/forms.
Current DOI-MOCC Certificate if already obtained, but not needed at time of applying or to begin employment.
Internship Opportunities
The park hires interns and trail crew through the Student Conservation Association. Positions will not necessarily be posted here. Check the SCA website to see what is currently available. Participants do not need to be students.
Last updated: July 28, 2023