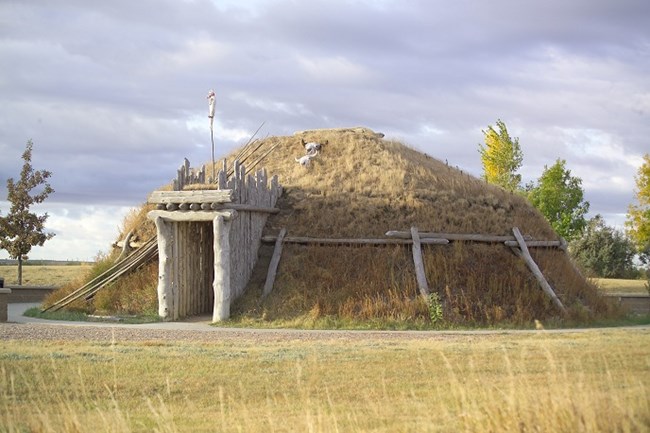 With their mastery of agriculture, tribes living in the Upper Missouri River Valley developed a unique earth and wooden home to fit their sedentary lifestyle. The result of centuries of innovation and adaptation, the circular earthlodge of the Mandan, Hidatsa, and Arikara people was the perfect home for life on the Northern Plains.
Within traditional Hidatsa society, women owned and maintained the earthlodge or awahte. An older woman with the sacred and practical knowledge of earthlodge construction supervised the entire building process. The women cut four cottonwood posts and beams and, with the help of the men, erected a central support structure. The women then erected an outer circle of posts and cross beams, leaned split logs to form a wall, and lifted the rafters into place. On top of this framework, the women laid bunches of willow branches, dried prairie grass, and thick sod to complete the structure. The finished earthlodge would be between thirty and sixty feet in diameter, ten to fifteen feet high, and took approximately seven to ten days to complete from start to finish. The women rebuilt the earthlodges approximately every ten years.
An earthlodge housed between ten and twenty people, usually sisters and their families. Beds were located around the outer ring in the areas between support poles. Personal items were kept under the beds while general use items were kept on raised platforms similar to bed frames. A typical earthlodge also contained a corral for prized war and hunting ponies on one side of the door.
The main focus in the earthlodge was the central fire pit with smoke escaping through a hole in the roof. In the event of heavy rain or snow, an old bullboat could be turned over the hole and propped up to allow smoke to escape. Earthlodge occupants sat around the central fire on reed mats including the atuka, a high-sided seat reserved for the oldest man of the household. The atuka was also offered to visitors as a sign of respect.