Hidatsa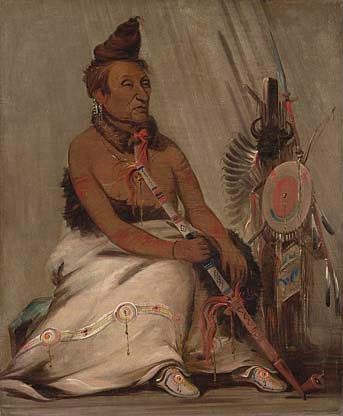 The Hidatsa say that long ago they were three distinct groups. Each originated in a different place and had its own dialect.
The Awatixa (meaning "Village of the Scattered Lodges") say they always lived along the Missouri near the Knife River. They tell of thirteen young couples that Charred Body brought from the sky to make a village overlooking the Missouri River. The thirteen lodges spread into thirteen villages which became the Hidatsa clans. Archeological evidence has confirmed the oral tradition revealing the "Flaming Arrow Site" approximately twenty miles south of the Knife River and dating to about 1100 CE.
The Awaxawi (meaning "Village on the Hill") tell of living in the earth and climbing to the surface on a vine. They met the Hidatsa-proper near Devils Lake in eastern North Dakota and the Awatixa along the Missouri River.
The Hidatsa-proper (meaning "People of the Willows") also lived within the earth and came to the surface near Devils Lake in North Dakota. Hidatsa warriors met corn growers along the Missouri River and decided to move there. When they arrived, the Mandan asked them to move north up the river but not so far as to become enemies.
Both archeology and cultural traits support Hidatsa oral history and origin as far east as central Wisconsin. The Awaxawi and Hidatsa-proper migrated westward sometime in the late 1500s and early 1600s.
The three Hidatsa groups settled in three separate villages at the confluence of the Knife and Missouri Rivers. After a Sioux raid destroyed the Awatixa and Awaxawi villages in 1834, these groups joined the Hidatsa-proper near their Hidatsa (Big Hidatsa) Village. For this reason, the three groups today are together known as the Hidatsa.
Smallpox
In 1837, a smallpox epidemic struck the Knife River Indian Villages. The Hidatsa dispersed onto the plains, avoiding the worst effects, but still suffered a nearly 50% mortality rate. In 1845, the remaining Hidatsa, along with most of the surviving Mandan, moved 40 miles upriver to establish Like-a-Fishhook Village, their last traditional earthlodge village.
Today
Today, the Hidatsa are part of the Three Affiliated Tribes or Mandan, Hidatsa, and Arikara Nation. They are centered on the Fort Berthold Reservation in west central North Dakota but live all over the United States and the world.
Last updated: June 22, 2020