Chilkoot Trail Conditions Report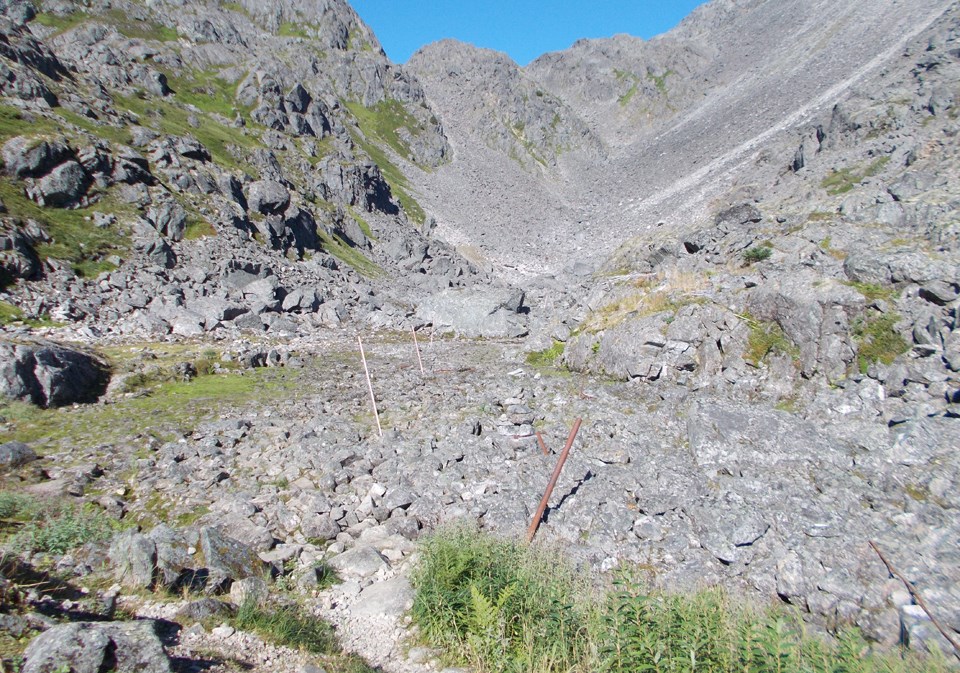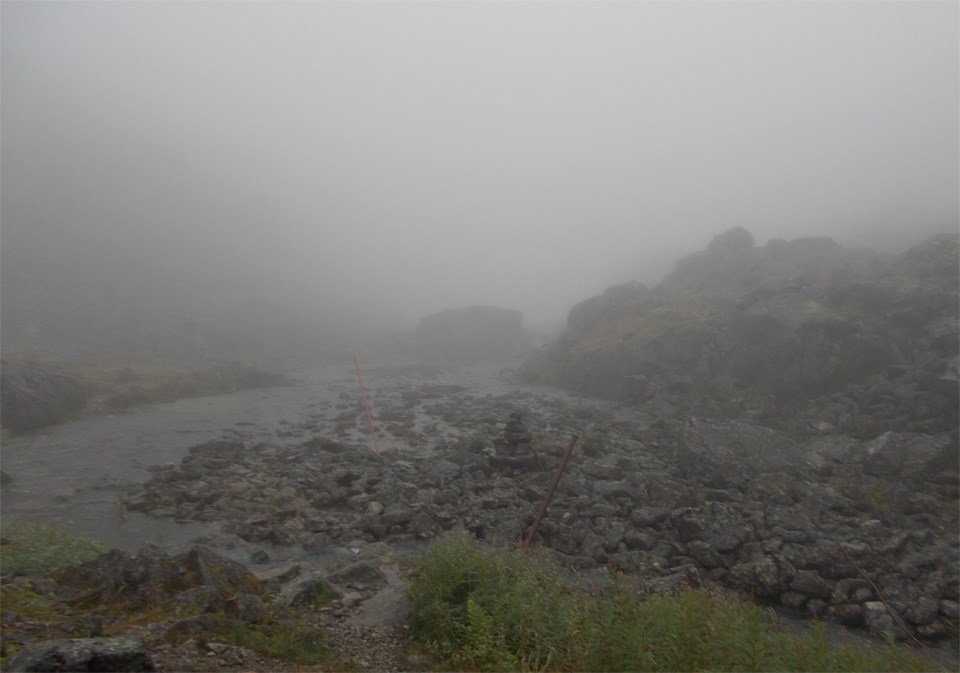 Looking from the Scales toward Chilkoot Pass on August 21st.
NPS photo/A. Brady
The same view two days later, August 23rd.
NPS photo/A. Brady
---
CHILKOOT TRAIL REPORT
Spring 2020
Trail and Border Closure
The US portion of the Chilkoot Trail remains open for day use and overnight use. Registration is required for overnight use (see below).
The border with Canada is currently closed to non-essential travel. Cross-border travel for recreation is strictly prohibited and may result in arrest, fines and a future prohibition from entering Canada. The Chilkoot Trail National Historic Site in Canada is closed until at least August 1 and all existing registrations from June 1 to July 31 will be cancelled. Travel within this unit managed by Parks Canada is prohibited.
Registration
There is no permit fee this time of year. Overnight use of the US portion of the trail requires registration. Please call the Trail Center at 907-983-9234. The Trail Center will be answering phones 7 days a week from 8am to 4pm and closed for one hour during lunch.
Bears
Brown and black bears are encountered frequently along the trail.
Stay on the trail and travel in groups, if possible. Use food storage lockers that are located at all the designated camping areas. Do not cook or eat food near your campsite. Keep all scented items away from your tent site. Do not leave your pack unattended at any point along the trail. Inspect your campsite when you are ready to leave camp to ensure that no garbage, food or personal belongings are left behind. Pack out all garbage. Do not place wrappers and trash in the wood stoves.
Emergencies
In the spring, U.S. Park Service Rangers infrequently patrol the Chilkoot Trail. There is no cell phone coverage along the trail. Iridium Satellite phones may work in some areas. Satellite phone users may seek 24-hour emergency assistance through Denali Dispatch at 1-907-683-2276. Poor weather conditions may delay medical or rescue assistance for several days. Helicopter medical evacuations from the trail can be costly. Trail hikers may want to consult their medical insurance policies before starting their hike.

Trail
The trail above tree line is unmarked and not readily identifiable outside of the summer months. Route finding skills are essential. Carry a map and compass. Flooding of the first six miles of the Chilkoot Trail is possible any time of year. Creek crossings may be dangerous. Some areas of the trail pass along or through high risk areas such as near fast moving rivers, boulder fields, and steep drops. Snow and ice along the trail may make these areas more hazardous. Due to the COVID-19 pandemic, cabins and warming shelters are closed and available for emergency use only. Overnight use of these shelters is prohibited. Restrooms along the trail are not cleaned daily. Please bring your own hand sanitizer and toilet paper and practice good hygiene.
Weather
Weather conditions change quickly and can be more extreme at higher elevations. Long stretches of the trail are above tree line where you will be exposed to the elements with little to no shelter available. Rain, fog, high winds, snow and sleet can be expected at any time of year. Whiteout conditions are common and can prevent detection of hazardous avalanche terrain, cliffs, open water and overflow. Be prepared for rain, cold weather and extreme environmental conditions.
Explore the weather conditions for the last 24 hours at
Dyea (Taiya River bridge)
Webcam
This webcam updates once daily. South facing view from Chilkoot Pass. During winter months the camera may be partly or entirely covered with snow.
View Webcam
Status: Inactive
Webcam
This webcam updates once daily. North facing view from Chilkoot Pass. During the winter months the camera may be partly or entirely covered with snow.
View Webcam
Status: Inactive
Avalanche Hazard
Avalanches are a natural phenomenon which may occur during any season on the trail. Extreme avalanche conditions often exist between Sheep Camp and the Canadian border. Campgrounds may be unsafe. Extreme avalanche conditions can also develop elsewhere in the park given the right set of conditions ie. slope, terrain, weather, and snowpack composition. When travelling through avalanche terrain, you need to be capable of identifying and assessing avalanche hazards. You need to be knowledgeable about route finding, avalanche safety and rescue in mountainous terrain. You should be properly equipped with shovels, avalanche transceivers, and probes and know how to use them. Choose your route and campsite locations carefully to avoid unstable slopes and hazardous avalanche terrain areas.

BE PREPARED. NEVER TRAVEL ALONE.
LEAVE A DETAILED ITINERARY WITH FAMILY OR FRIENDS

For additional information stop by the NPS Administrative Offices (2nd floor) in Skagway or call (907) 983-9200. This report is intended to stress the changing trail conditions only and will not substitute for the essential information found in other brochures and your own common sense. For online information, visit our Chilkoot Trail hiking page.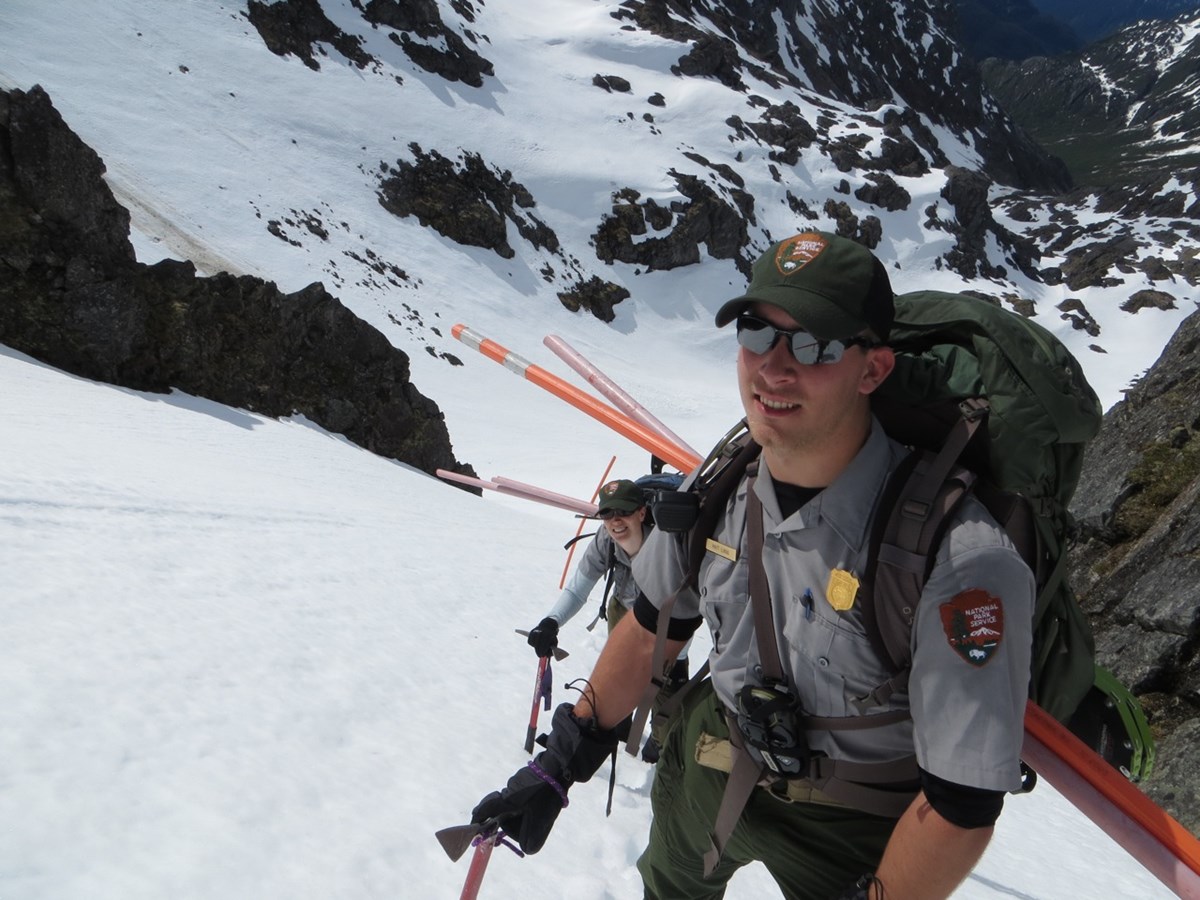 Last updated: June 1, 2020