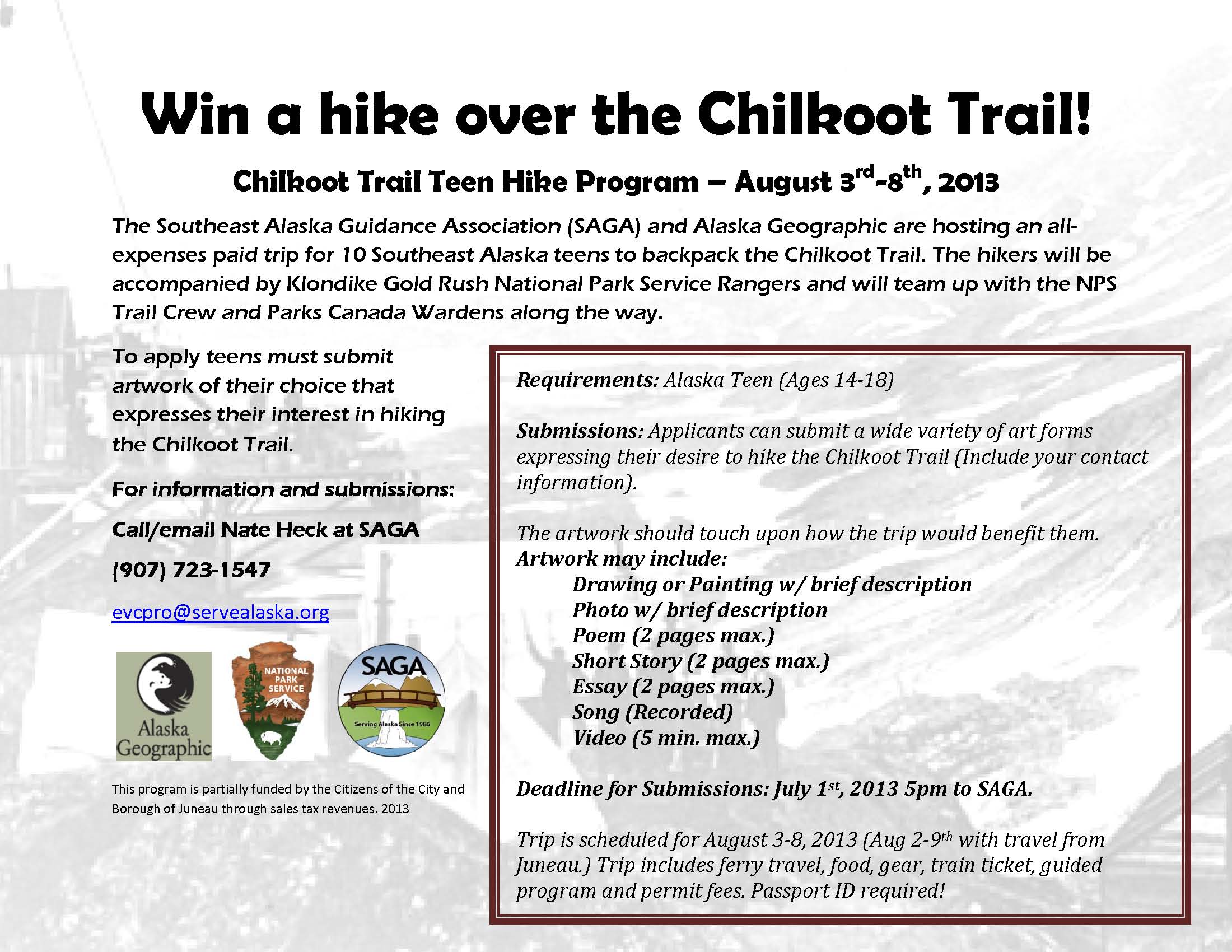 News Release Date:
June 5, 2013
Contact: Amanda McCutcheon, 907-983-9243
Alaska Geographic Association and Southeast Alaska Guidance Association (SAGA) are offering Southeast Alaska and Yukon teens an opportunity to hike the international Chilkoot Trail.This trip of a lifetime is being coordinated in cooperation with Klondike Gold Rush National Historical Park. The trip is scheduled for August 3-8 (August 2-9 if travel is from Juneau). All expenses are paid for including food, train tickets, gear rental, and education activities. Passport ID is required and teens must be ages 14-18.
Applicants should submit a piece of artwork to apply which expresses their desire to hike the Chilkoot Trail. Artwork may include: drawing or painting with a brief description, poem, essay or short story (2 pages maximum), an original song (recorded) or a 5 minute video. For more information and submissions, contact Nate Heck at SAGA (907) 723-1547 (evcpro@servealaska.org)
National Park Service Park Rangers will accompany the trip and teens will be invited to join the National Park Service Trail Crew to improve portions of the Chilkoot Trail.SAGA, Alaska Geographic, and the Klondike Gold Rush NHP all hope that getting teens out in their National Parks will serve to engage them in stewardship and leadership in Alaska.
.  
Teen Chilkoot Trail Itinerary
Friday, August 3
Meet at 7 am to begin Hike - 7.5 miles to Canyon City
Saturday, August 4
Hike 4 miles to Sheep Camp and attend Service Project Trail Crew Training
& Backcountry Ranger evening program
Sunday, August 5
Service project on the Scales with Trail Crew from 8 am – 4 pm.
Camp at Sheep Camp
Monday, August 6
Early wake up at 5 am to summit and hike to Happy Camp
9 miles
Tuesday, August 7
Hike to Bare Loon 8.5 miles Meet Parks Canada Warden
Wednesday, August 8:
Early wake up at 7 am and hike to Bennett 4 miles12:15 pm Train Departure from Bennett to Carcross Bus transfer from Carcross to Skagway arrive home
Approx time ofarrival- 4:30 pm