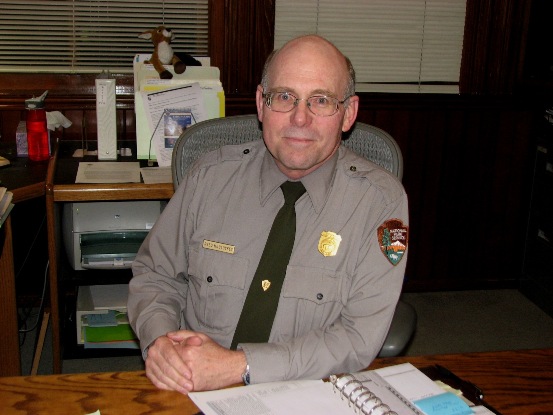 News Release Date:
November 14, 2012
Contact: Cynthia Von Halle, 907-983-9206
Reed McCluskey will retire from Klondike Gold Rush National Historical Park (KLGO) after more than 35 years with the National Park Service. He served approximately 8-years as Chief Ranger at KLGO, supervising resources management and law enforcement. Reed moved to Chief of Administration in 2006 where he continued to manage the park's historic building leases and commercial use permits, in addition to a variety of business functions such as personnel, finance and budget. Reed and his wife Marlene arrived in Skagway in 1998 with their two sons, Arlen and John. The family moved here from Albuquerque, New Mexico where Reed was Chief Ranger at Petroglyph National Monument.
Other park assignments include working as Subdistrict Ranger at Grand Canyon and Backcountry Ranger at Channel Islands, where he met Marlene, also a National Park employee. Reed completed training with the National Park Service in Denver which led to a job as an Environmental Specialist in 1979. This position allowed him to travel and work at various parks, including 18 months on location at Santa Monica Mountains Recreation Area.
Reed's favorite job throughout his career was being a Park Ranger on San Miguel Island. He said "I definitely enjoyed having my own island, even if it was only on- loan." He vividly remembers his time at Channel Islands NP as "wild and raw, in a way that no other wilderness has ever been in my experience. The wildlife there dominates the lives of any humans who happen to be privileged enough to be able to drop in for awhile." But the family outgrew the tent cabin pretty quickly, Reed added, and it was time to move along.
Growing up in the East Bay of San Francisco, Reed enjoyed family hiking and camping trips. He claims that becoming a Park Ranger was his dream job since high school. He and Marlene look forward to relocating to California in May where they are planning to homestead. "It's time for planting fruit and nut trees, raising chickens, and woodworking projects for me and quilting for Marlene," says Reed. "We want to fix things that are broken and sell things that are fixed, and do it all in the sunshine."
Superintendent Mike Tranel stated that "Reed has done a great job at Klondike Gold Rush National Historical Park. He has been a tremendous asset to me over the past couple of years since he knows the background on how things work at the park and he understands where we need to go in the future."
A retirement celebration is planned for Saturday, December 8 at 6:00 pm at the Skagway Brewing Company. The public is invited and RSVP is requested by calling 983-9200.