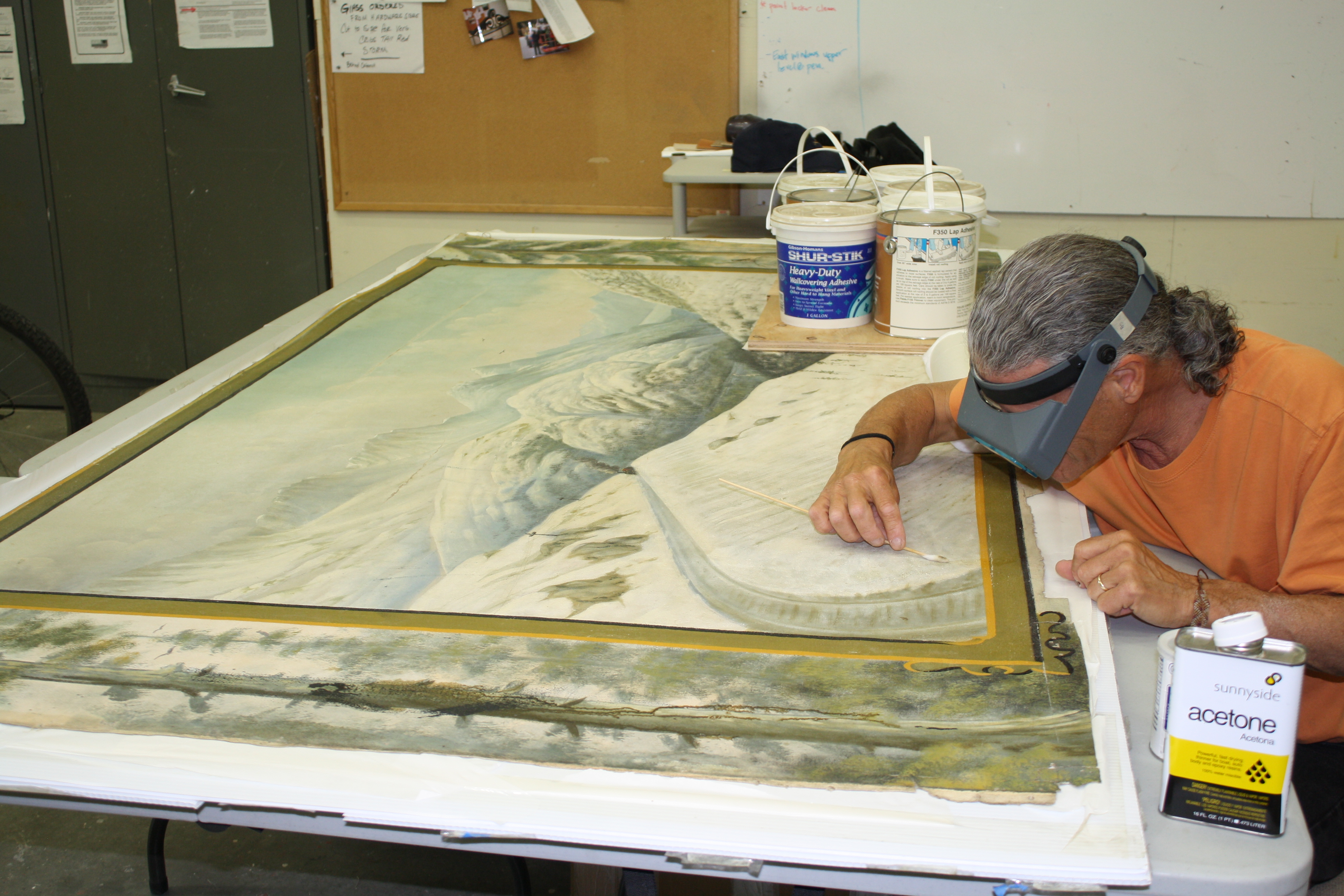 News Release Date:
August 21, 2014
Contact: Cynthia Von Halle, 907-983-9206
Professional conservators have been diligently cleaning and restoring bits of history removed from Jeff. Smith's Parlor located on 2nd Avenue in Skagway, Alaska. Slated to be open for public tours in 2016, the parlor once belonged to the notorious con man known as Soapy Smith during the Klondike Gold Rush. Preservation of the original artifacts and memorabilia has been ongoing since the Klondike Gold Rush National Historical Park (KLGO) acquired the building through a generous donation by the Rasmuson Foundation in 2008. This summer, arrangements were made for conservation treatments for the building's interior, including prominent artwork and the original wall coverings composed of historic newspapers and one-of-a-kind documents.
Earlier in June, conservator Carmen Bria from the Western Center for the Conservation of Fine Arts in Denver treated a 1901 painting of the White Pass by Lewis F. Klein.The painting was installed in Jeff. Smith's Parlor as part of a large diorama featuring a taxidermy mount of two moose locked in combat.The conservation treatment included cleaning the surface, lining the hundred-year-old canvas with a support fabric, and paint repair.As shown in the photograph, he did not hesitate to incorporate available materials as flattening weights."On-site painting conservation is a rare phenomenon in Alaska outside of Anchorage," said KLGO Curator Samantha Richert.Mr. Bria has done extensive fieldwork in Alaska and scheduled concurrent projects at the Skagway Museum and the Juneau Airport which reduced treatment costs for all three museums.
In July, rare and fragile newspaper articles and photographs from the interior walls were cleaned and preserved. Eileen Clancy, art conservator from Connecticut and student intern Quinn Ferris from New York carefully pieced together many stories and headlines that were originally published in the 1899 Daily Alaskan. Amusing headlines such as "Lost Man eats porcupine and likes it" were among the newspaper print glued on the parlor walls. One photograph preserved from the wall shows Moore's wharf (today's railroad dock) with workers from circa 1899.The photograph has survived in surprisingly good condition compared to many of the other wall coverings that have been damaged by water leaks along the walls.When asked about procedures for handling delicate antique newspaper, Ms. Ferris said "the most important ingredients are time and patience."With carefully executed scalpels and forceps, the clippings, magazine pages, and photograph layers can be brought back to life.
Following Soapy's death in the summer of 1898, the parlor hosted several businesses including the Mirror Saloon, Clancy's café, and the garage for Skagway Fire Department Hook &Ladder Company from 1900 to 1935.In 1935, Martin Itjen started managing the buildings (there are three separate buildings joined together), turned it into a tourist attraction, and included it as the premier destination of his "Skaguay Street Car" tours.After Itjen's death in 1942, many of his belongings passed to his longtime friend, George Rapuzzi, a WPYR machinist and local tourism promoter.In 1963, Rapuzzi moved Jeff. Smiths Parlor from 6th Avenue to its current location.With the assistance of his wife Edna, Rapuzzi augmented the museum's exhibits with additional artifacts and documents and re-opened it to the public.The painting and paper conservation treatments completed this summer bring KLGO closer to full restoration of the building for public enjoyment and a grand opening in 2016. Jeff. Smith's Parlor will showcase many artifacts from both the Itjen and Rapuzzi eras as they contribute to the "Soapy" story of Skagway's exciting gold rush history.