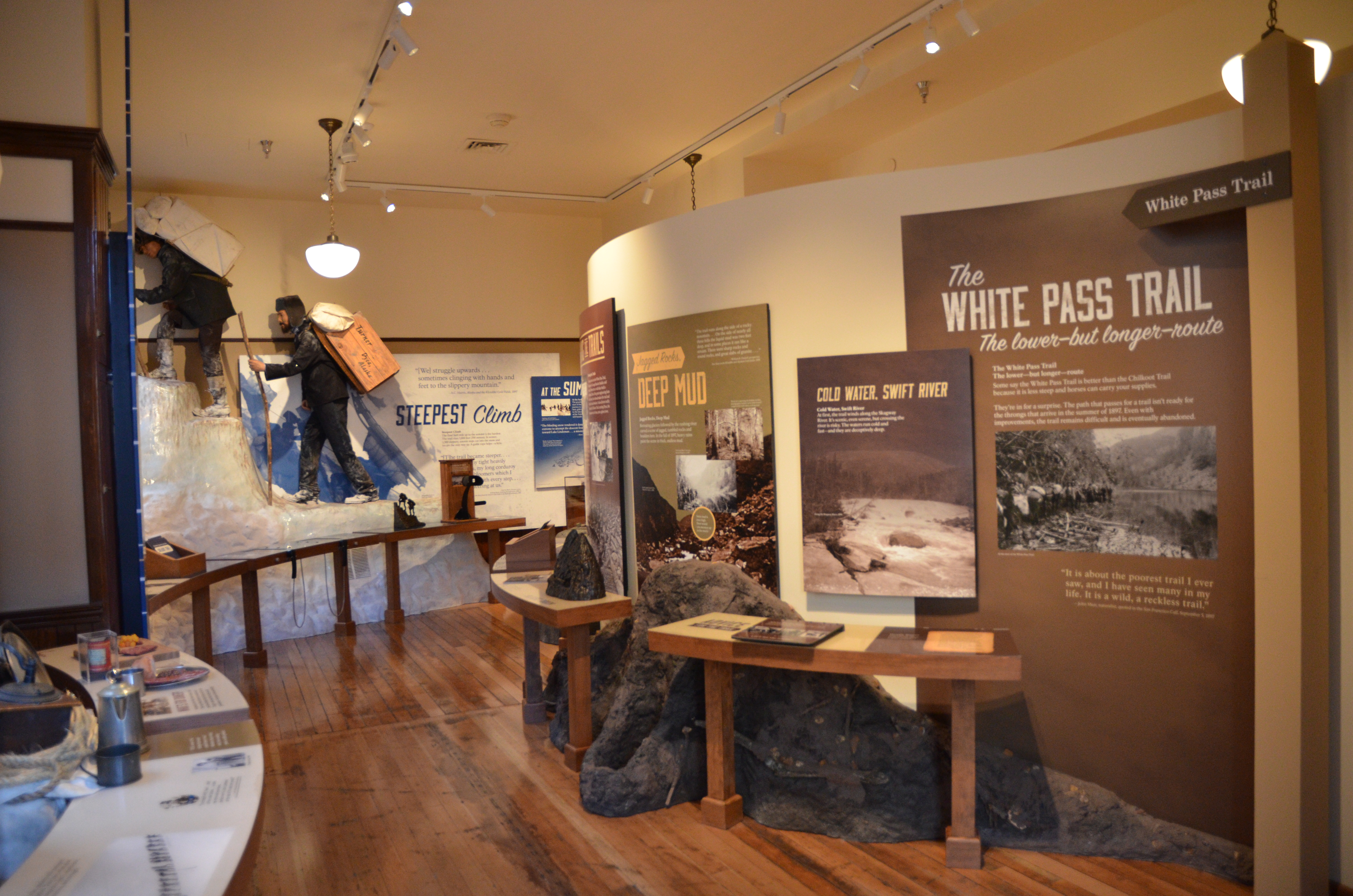 News Release Date:
November 15, 2016
Contact: Jason Verhaeghe, 907-983-9243
Skagway –  New gold rush exhibits debut on December 2, 2016 in the National Park Service (NPS) Visitor Center and Museum. Following the Holiday Concert in the NPS Auditorium at 6:00p.m., the new exhibits will open at 7:00p.m.
After three years and a $900,000 contract with Formations Inc. of Portland, OR, the NPS Visitor Center and Museum now feature interactive and accessible exhibits. Visitors can smell sourdough and eulachon oil, step into a muddy boot print, "raft" down the Yukon River, and spin a game-show style wheel to see if they strike it rich…or die. "It's been a long process and we're really proud of the final result," says education specialist Jason Verhaeghe. "These exhibits tell the story of the gold rush by following five real characters, helping visitors feel like they're on a journey themselves."
In addition to being fun and tactile, the new exhibits are now legally accessible. There is ample room for wheelchairs to maneuver and text is low and large enough for kids and seated visitors to read. Selected text is duplicated in braille and there will be an audio description of the exhibit to aid visitors who are visually impaired by summer of 2017. Large graphics convey the main concepts and emotions of the gold rush even to visitors who don't read English fluently.
The previous "ton of goods" mannequin finally made it over the pass! Parks Canada now features the mannequin and the rest of the display at the museum at Lake Bennett. Since installation in mid-summer of 2016, over 8,000 people have visited the exhibit there.
Like past years, the visitor center and museum will remain free. In winter, the museum is open Monday-Friday from 8:00a.m. to 5:00p.m. but is closed on federal holidays. The visitor center is closed for winter and will re-open for the 2017 summer season.