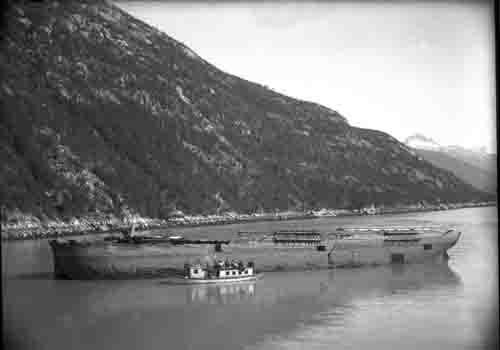 News Release Date:
April 4, 2013
Contact: Cynthia Von Halle, 907-983-9206
Contact: Karl Gurcke, 907-983-9214
A team of professionals and volunteers will delve into the watery grave of the bark Canada to conduct an archeological survey in Long Bay early next month. Karl Gurcke, historian for Klondike Gold Rush National Historical Park, has been planning logistics and taking the lead in Skagway for this multi-agency endeavor involving the National Marine Sanctuary Foundation, the Alaska Office of History and Archaeology (OHA), the Municipality of Skagway, the Institute of autical Archaeology, the Yukon Transportation Museum, and the National Park Service- Submerged Resources Center. Site inspection will start on April 12 and work is planned throughout the weekend with mapping and assessments of key features and artifacts. No artifact recovery is planned.The public will have several opportunities to learn more about the Gold Rush era shipwreck site located on Dyea Road. The main purpose of this project is to document the vessel before it completely deteriorates. It is visible at low tide and can be seen at high tide in calm weather conditions. Gurcke will be speaking on the history of the ship on KHNS at 9:00 a.m. on Tuesday morning, April 9th as part of the regularly scheduled History Talks. Additionally, there will be a public lecture and presentation at the National Park Service Visitor Center auditorium on 2nd and Broadway on Friday, April 12 at 6:00 p.m. The history of what exactly happened to the Canada in Skagway is shrouded in mystery with a hint of piracy.Built in Bath, Maine in 1859 she was almost a derelict in Tacoma, Washington at the start of the Klondike Gold Rush.Patched up and loaded with 800,000 board feet of timber and other items, she left Tacoma on January 30, 1898 under tow by the tug Pioneer.Battered by icy winter storms occurring up and down the Lynn Canal at the time, she reached Skagway on February 14, 1898. Subsequently, the Canada was either washed ashore or deliberatly run aground.The passengers were rescued by the ship Lady of the Lake and it is believed that the cargo was salvaged. The archeological investigation and continued historical research will fill in more details and provide photographs for future educational exhibits. If time and weather permit, the crew hopes to also document the southern end of Long Wharf and the Dyea-Klondike Transportation Company's wharf site in Dyea.