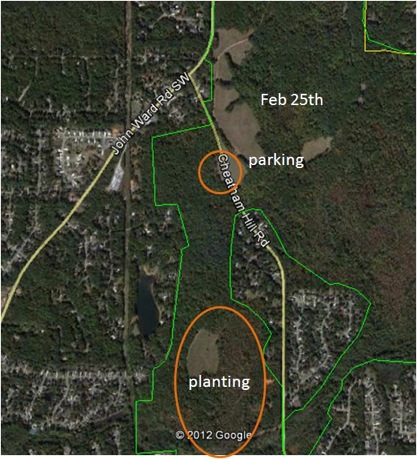 News Release Date:
February 3, 2012
Contact: Holly Walquist, 770-424-4664
When: Saturday, February 25, 2012
         8:30am Sign-in and refreshments
         9:00-11am Plant 1550 seedling trees
Where: Kennesaw Mountain National Battlefield Park, planting location - look for signage and traffic directors on Cheatham Hill near John Ward Road - see below for a link to the map, Marietta, GA.
For Whom: Open to the Public, all ages.Please car pool if possible, parking limited.
Cost:Free
---
We're calling for volunteers of all ages to come out and assist Marietta Tree Keepers, The Rotary Club of Marietta & Keep Cobb Beautiful as we plant 1550 seedling trees at Kennesaw Mountain National Battlefield Park on Saturday, February 25, 2012. The Piel Field area is being restored to a hardwood forest in order to reflect the area's mid-19th century vegetation cover.

So come on out and help us as we help add more trees to this well cherished historical property.Large groups please call ahead and let us know how many volunteers will be attending. For more information and weather updates call 770.424.4664 or email mariettatreekeepers@comcast.net.
Here is a link to the site location on the website: https://www.nps.gov/kemo/index.htm

Volunteers are asked to arrive at 8:30am to enjoy donuts and beverages before digging in to work.All ages are welcome to this family-friendly event.Dress appropriately for the weather.Tools will be provided although volunteers are welcome to bring their outdoor gloves and tools as we may run out of tools depending on the amount of volunteers.Please car pool if possible, parking limited.
Background
Members of the Marietta Tree Keepers have been promoting the value of trees to the community since it was founded in 2002.MTK has over 100 members and has planted over 2,500 trees around the city.The 501(C) 3 non-profit organization works closely with the City of Marietta to plant trees along public right-of-ways, parks and schools. Those wishing to become a member or make a donation can learn more by visiting MTK's website at www.mariettaga.gov/committees/treekeepers.
Please check our website or answering machine for up-to-date locations and weather conditions. www.mariettaga.gov/committees/treekeepers
Phone: 770-424-4664  Email: mariettatreekeepers@comcast.net